We know that military wives put their families before themselves. A few, great military spouse bloggers teamed up with us to give one lucky lady a $100 Sephora Gift Card. Sure, we could've picked a Visa Gift Card, but we didn't want you to go and pay bills or treat someone else. It's time to treat YOU. So enter to win on the Rafflecopter widget below and on your way down there, get to know these other awesome military spouse bloggers!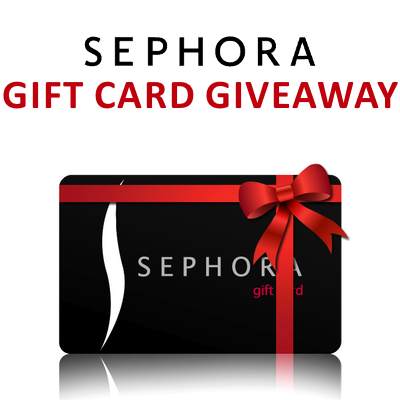 Military Spouse Bloggers
Erin, Navy Wife
Deployment Diatribes | Facebook | Twitter
Erin is a parenting coach, writer, academic writing coach, Navy wife and mom to 4 sons (one who has Autism Spectrum Disorder). She recently parented solo during her husband's 20-month deployment. Her boys are 14, 12, 8 1/2 and 5 years old. The Been There Done That mom offers insight into military family life and no nonsense parenting.
Kristine, Marine Corps Wife
USMC Life | Facebook | Twitter
USMC Life provides an overview of major Marine Corps bases focusing on base information, housing, schools, youth, getting to and from each installation and links helpful to Marines and their families.
The site also provides resources about Tricare healthcare, discounts, money for education, PCS tips, separating from the Corps and more.
Kara, Marine Corps Wife
Ramblings of a Marine Wife | Facebook | Twitter
Hi! I'm Kara, wife to a Marine and mom to two little boogers. We are currently stationed in Japan! I tend to blog about our adventures in a foreign country and life in general. I'm an avid fan of my kids, free stuff, sweepstakes, and making the most of this life
Samantha, Army Wife
Hooah and Hiccups | Facebook | Twitter
A lifestyle blog centering around fashion, family, and fun. At Hooah and Hiccups, you'll find my latest fashion finds, parents advice, and heartfelt posts on just about anything!
Christy, Navy Wife
SD Military Wife | Facebook | Twitter
Navy wife and mother of 2 keeping writing about military life and keeping you informed of deals and events for military families in the San Diego and Camp Pendleton area.
Morgan, Army Wife
Stars, Stripes & a Military Life
Everyday lifestyle blog about our time at Ft Bragg while I go to culinary school & open a restaurant.
Raven, Army Wife
Ms. Mommy HH6 | Facebook | Twitter
The focus on Ms. MommyHH6 is moms! All moms, especially military moms and special needs moms. There is a weekly profile on a special mom. Product and book reviews are also a weekly staple. Topics covered on a rotating basis by Ms. MommyHH6 and guest bloggers are Cooking Simply, Cleaning & Laundry Tips, Organizing for Home & Life, Children's Activities, Just for Mom, Special Needs Family Tips and Military Life "Simplified". Every week also features a personal post from Ms. MommyHH6, a surprise Sunday Post and a special "6″ list!
Good Luck! The giveaway runs from Monday, June 3 through Thursday, June 13. Winner will be contacted via email and must respond within 24 hours or another winner will be chosen. The giveaway is open to all readers, not just military spouses. If you saw not a spouse, please leave a review for your neighborhood, even if it's not in a military town.
Enter to win a $100 Sephora Gift Card
This raffle has ENDED
Visit MilitaryTownAdvisor.com for PCS advice!