Military Homes For Rent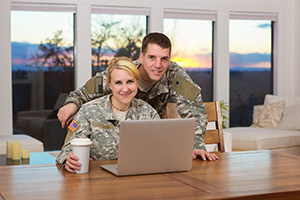 How To Find A Military Rental Home
Searching for military homes for rent online can be very difficult and at times you have to move fast. The demand for military homes for rent is very high and usually the supply is low so it can be difficult to find a home that has everything you are looking for. Here are some tips to help you find your next military home for rent.
Here are some tips to help you find good military rentals:
Use Your Military Network: Talk to other military families via Facebook and other social media outlets.
Research the Areas Surrounding Your Next Duty Station: Read reviews from other military families about where to live and find out which neighborhoods are the best fit for your family's needs.
Research Commute Times: Find out how much traffic affects your new town. For example, a 5 mile commute might take 5 minutes in one town and 30 minutes in another. Decide what kind of commute fits your family's needs.
Research Crime Rates: Research crime rates on NeighborhoodScout and SpotCrime.
Research Schools: Research schools ratings on Military Town Advisor, GreatSchools, and Schooldigger. Read tips for researching a school online.
Set a Budget: Plan ahead and begin talking with your spouse about the new town, new BAH, and new prices for utilities. Moving is always expensive so start saving now and have a plan for when you move. Find your new BAH.
Research Tenant Laws and Property Management Companies
Start Searching for Homes Online: Look for available military rental homes on Zillow, MilitaryByOwner, Realtor.com, Craigslist.
Get Current Pictures: Whether you get the opportunity to take house hunting leave or you have to rent sight unseen, find someone to take current pictures of the home. Ask a friend, realtor, or property management company to take pictures for you.
Research Neighborhoods: Research local family composition, income, household comparisons, and age of population at Claritas.com. Read neighborhood reviews and find out if the neighborhood is social, family friendly, and safe. Read off base neighborhood reviews.
Search for Military Homes for Rent
If you can't find good military rentals in the neighborhood or school district you would like, then think about buying a military home for sale.
Have You Lived Off Base?