Military Homes
Search military home listings
Things To Consider When Buying Or Renting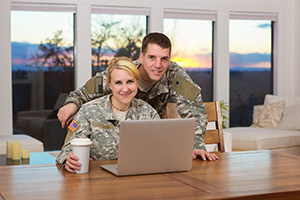 When buying a military home for sale or a looking for a military home for rent, military families have very different criteria than other buyers. For example, military families will most likely only be stationed at their current duty station for about 3 years, so they are looking for a home for that time period or a home they can later use as a rental property. Search for a military friendly REALTOR through our directory. If they have the MTA Seal of approval, you can trust they understand the needs of military families.
Military House Hunting is Very Different than How Civilians Find New Homes:
Military families aren't looking for their dream homes: Look for a military property for sale in a good area, with good resale, and the ability to be a good rental if you move sooner than expected.
School Districts: If you have school aged children, find military homes in a good school district. Most military families will buy a less fancy house, if it's in a good school district. Also, most homes in a good school district hold their value and make good rental properties.
Safety: Make sure the neighborhood and surrounding area is safe for you and your family. Military families spend a lot of time apart where one member is home alone for week or months at a time. Drive by the house at night and talk to neighbors to get a feel for the neighborhood before buying a house.
Family Friendly and Social: Military house hunting also takes the need for socialization into consideration. A friendly neighborhood can have a sense of community which is important while your spouse is away.
Distance to base: Talk about commute times and decide what is best for your family.
Read Off Base Neighborhood Reviews
Military home listings can look attractive in pictures online or in print, but what's the surrounding area really like? A military home for sale might be the perfect price, but wouldn't you want to know what others have to say about the neighborhood? Read the neighborhood base reviews before you start your military home and real estate search.
Search Off Base Neighborhood Reviews
If you decide to live off base, then read off base housing reviews, search school ratings near military bases, find a military friendly REALTOR, and search for military homes for rent or sale. Then once you are settled, you can search fun things to do near base, and military friendly businesses. We are here to help!
Honest Reviews From Military Families
Military Town Advisor acts as a military home listing hub for troops and their families. Our site helps military families understand more about what's around military homes by providing honest reviews about neighborhoods and areas surrounding the military base. Our reviews have a star ratings system for family friendly, social, safety, distance to base, and schools so you can learn more about what surrounds military homes.
Have You Lived Off Base?