Military Friendly REALTOR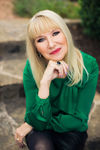 Cell Phone: 210-863-2629
Office Phone: 210-568-9595
Website: http://www.hasslocherrealestate.com
Profile
Cities Covered: All of San Antonio and Bexar County area as well as surrounding cities.
Category: Real Estate Agents/ Broker
Specialties: Buyer Agent, Seller Agent, Rental Searches, Relocation
Incentive Programs: I give my seller's a 1% discount when listing their homes.
Military Affiliation: Family Member of Service Member
Part Time/Full Time: Full Time
About Tracie Hasslocher
Tracie is a native of Jacksonville, North Carolina, home of Camp LeJeune, and is well acquainted with military tradition. Her father retired as a Master Gunnery Seargent in the USMC, having fought in 3 wars. A graduate of North Carolina State, her BA degree is in Sociology, with concentration in Criminal Justice. She obtained her Master's Degree in Real Estate focusing on Residential Sales, Management, and Marketing in 2017.

Tracie obtained her real estate license in 2005, and broker's license in 2007. An emerging entrepreneur, she opened her own boutique real estate company. She is active at the San Antonio Board of Realtors, where she currently sits on the Board of Directors, and has previously served as Chair and Vice Chair on numerous committees. Tracie also belongs to the Texas Association of Realtors and the National Association of Realtors.
Tracie has numerous designations including ABR, ALHS, GRI, SRS, and LTG. Helping people find their dream home is only a part of Tracie's motivation; individualized, personal attention is the hallmark of her endeavors.
No reviews yet. Be the first to review Tracie Hasslocher!