Fort Hood PCS Guide
If you are PCSing to Fort Hood, this PCS Guide will help you get a better feel for the areas that surround Fort Hood. We have compiled the reviews from military families and listed the top neighborhoods and areas surrounding Fort Hood Army Base.
This guide will help you narrow down your search for Killeen, Belton, Temple and surrounding areas and hopefully reduce your level of anxiety. If you have additional questions about this PCS Guide to Fort Hood, feel free to contact us or join our Facebook Group.
Download the complete PCS Guide to Fort Hood so you can start your research.
Fort Hood
Fort Hood is located in Killeen, Texas halfway between Waco and Austin. Fort Hood is an army base and is the largest military base in the world by area with more than 215,000 acres.
Since Fort Hood is such a large military base, it's important to first know which side of base your spouse will be working on, and this may affect where you decide to live in town. With Fort Hood, it seems, neighborhoods closer to base have a higher crime rate and these areas are typically less desirable. We have compiled the reviews from military families and listed the top neighborhoods and areas surrounding Fort Hood Army Base.
Popular Neighborhoods and Areas around Fort Hood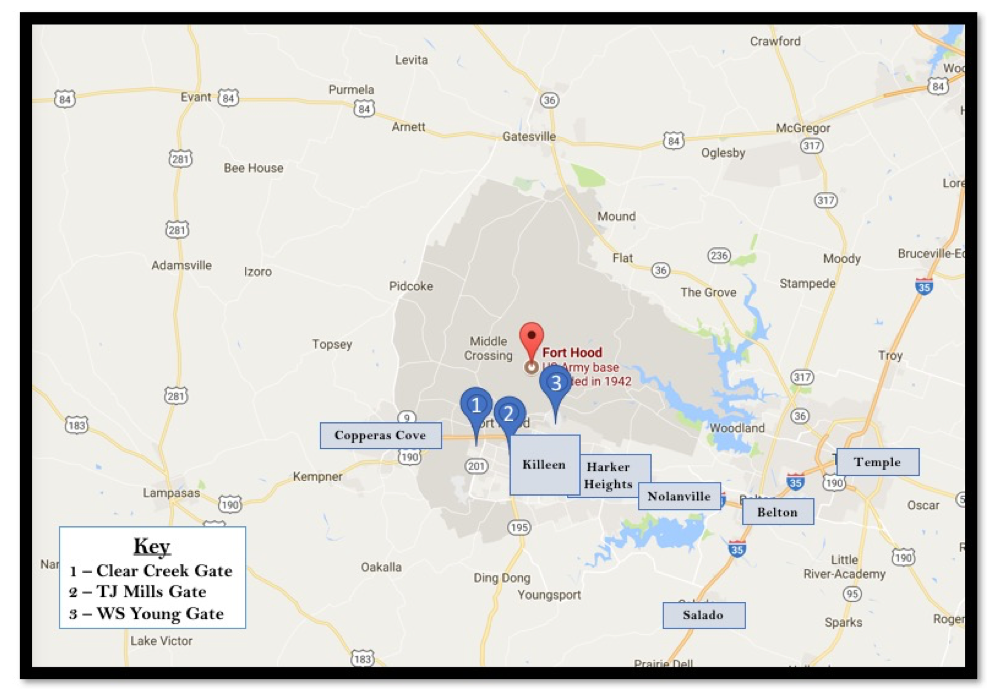 Killeen
Killeen or better known as K-Town is the city where Fort Hood is located. It's like most military towns where there are small and big box stores, strip malls, and chain restaurants. The homes are very 'cookie cutter' and it has a suburban feel. Killeen has 'pockets' of nicer neighborhoods along with areas that are not so great located close by. Killeen is filled with military families and almost everyone in town has some affiliation with the military.
Harker Heights
Harker Heights is located between Killeen and Belton. It's more of an extension of Killeen and over the past decade experienced a lot of new construction. Many military families choose to live in Harker Heights when stationed at Fort Hood. They have a movie theater, Super Target, Dick's Sporting Goods and other big box stores. School are good in the area so this makes it a desirable area for military to move to.
Copperas Cove
Copperas Cove is located just West of Base off Hwy 190. The 'Cove' has a country feel and a quiet community. It has access to a back gate into Fort Hood. Lots of military move to this area. While this is a nice place to have a 'starter home', it doesn't offer much for shopping. Shopping consists of a Walmart and HEB.
Nolanville
Nolanville is near Harker Heights and a new up and coming community that is family friendly with new construction homes.
Belton
Belton is located East of Killeen and is a more expensive area with larger homes. There is a mix between military and civilian in this area. The area is very family friendly, however it can be a far drive to Fort Hood (approx. 30-45min without traffic). There is a beautiful lake located in Belton called Lake Belton. Homes in this area are larger and more expensive, but you have the benefits of beautiful lake views and outdoor activities. This is a great place to live if you are willing to pay a higher price per square foot and have a longer commute to base.
Salado
Salado is a small touristy town located East of Fort Hood. It's very nice and quaint. The homes are pricey because it's a touristy historic area. There are great places for music, restaurants and small artistic boutiques. It has a small-town vibe.
Temple
Temple is the next largest city located just East of Fort Hood. Due to its distance from base, Temple can be a long commuter for military families. Life in Temple does not revolve around the base so it has more civilians than military families living in Temple neighborhoods.
Kepner and Lampassas has a country living feel.
Download the PCS Guide to Fort Hood
Recommended Neighborhoods
Spanish Oaks,
White Rock Estates,
Copperas Cove,
Skipcha Mountain Estates,
Knights Ridge,
Evergreen Estates,
Timber Ridge Estates
Northcliffe, and
Oak Vieware just a few of the most recommended neighborhoods near Fort Hood.
Read the full list of neighborhood reviews near Fort Hood.
Fort Hood Town Advice
Click here to read Off Base Neighborhood reviews, Military Housing, Apartments, Realtors, Homes, Things to Do, and Local Businesses near Fort Hood.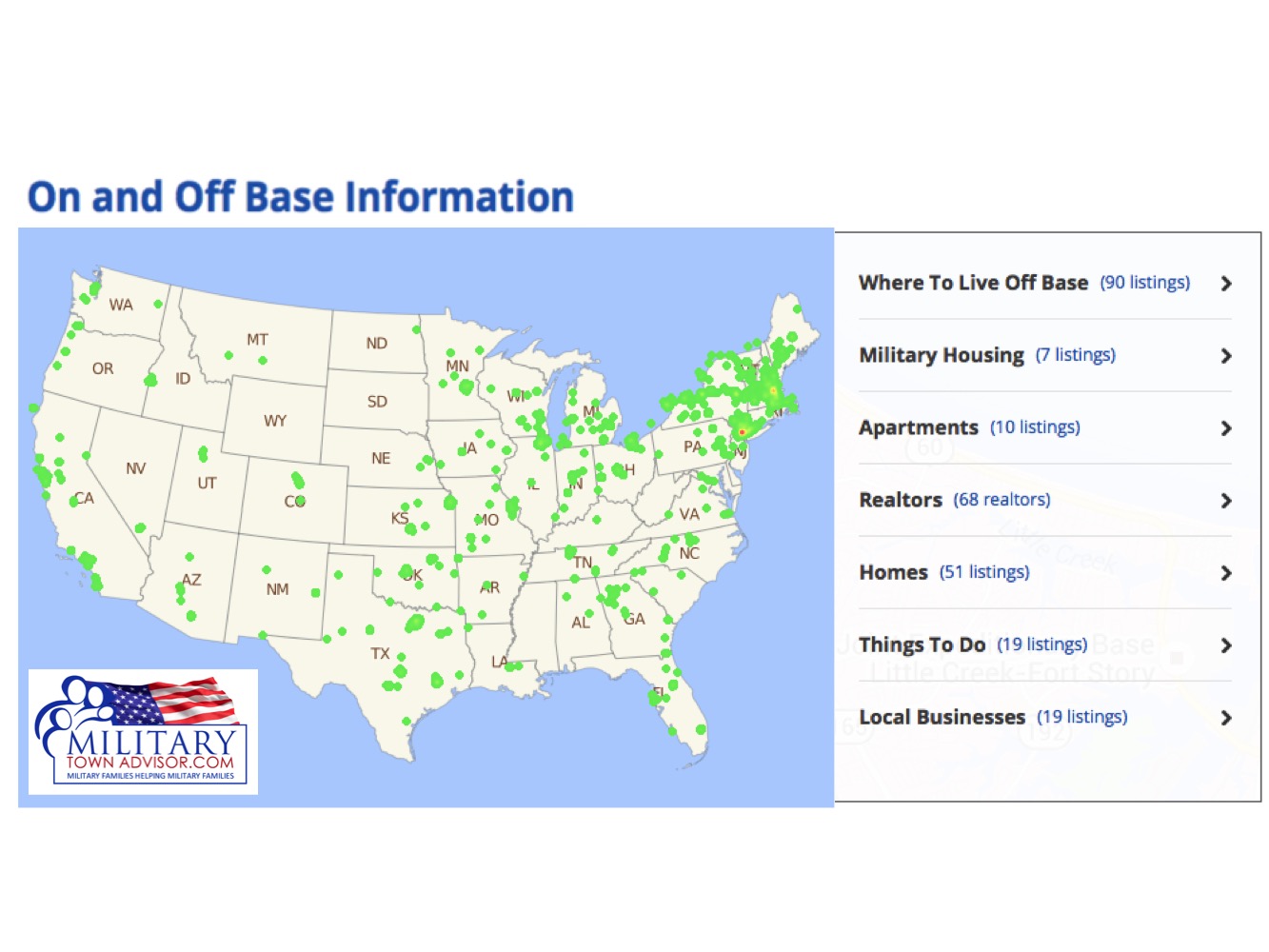 Download the PCS Guide to Fort Hood
Find Military Friendly REALTORs
Whether you are looking to buy or rent a home near Fort Hood, search our large database of Military Friendly Realtors near Fort Hood. Real estate agents can help you narrow down your search and keep you in the loop when houses come on and off the market.
Find MilitaryByOwner Homes
Search MilitaryByOwner's military homes for sale or rent near Fort Hood.
Pay it Forward
Participate in our Incentive Program
I understand that your time and knowledge is valuable so I'd like to reward you for writing reviews. The motto of this website is to Pay It Forward and help other military families. You are paying it forward by sharing your knowledge and advice with other military families, and we are paying it forward by rewarding you for your time with Amazon gift cards!