On our second sea tour in Jacksonville I found myself alone with my two small children often. If my husband wasn't on one of his two deployments for that tour he was working every other weekend. This meant a lot of mommy and kids time. One of my favorite things to do with my kids was take them to The Jacksonville Zoo.
The Jacksonville Zoo is the most parent and child friendly zoo I have ever been to. I love the wide walkways, the easy to read maps, and a variety of interesting things to do other than just look at animals in their habitats. In addition to checking out all the awesome animals the Jacksonville Zoo also offers a playground, a long train ride around the zoo, a carousel to ride, free toddler classes about animals, Jazoo's Kid Zone, a Play Park with a water splash area, and garden mazes to name a few things.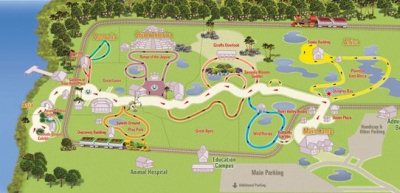 The Jacksonville Zoo is a place I recommend buying a Family Membership. If you buy your family membership at the guest services gate you get a 10% off military discount, which brings the cost to $104 for a Family Membership. (Family Membership includes: 2 adult and unlimited kids). The membership pays for itself if you visit the zoo three times. We went at least once a month. Membership also gives you the option to purchase discounted tickets for the train and carousel. Riding the train was always on our Zoo To Do List It's a great way to relax, see animals, and just enjoy being outside.
Our favorite thing to do at the zoo is to eat our lunch with the black jaguar! Palm Plaza Cafe is our favorite zoo restaurant. It is located in the Range of the Jaguar and offers a southwestern menu with nachos, burritos, tacos, sandwiches and salads. You could also pack your lunch and bring it with you. We would eat at one of the tables in the Range of the Jaguar exhibit. It's a huge area with lots of umbrellas and tables. There is also a huge water part of the jaguar's habitat that is filled with fish. The kids love to sit next to the glass and watch the fish. One zoo keeper taught us a trick: if you "pet" the glass the fish will come to your hand. Sure enough it works!
Remember to bring a stroller for the little ones!
The Jacksonville Zoo is located at:
370 Zoo ParkwayJacksonville, FL 32218
904-757-4463
To find more fun things to do, read our on and off base reviews near NAS Jacksonville!