For anyone coming to Washington DC whether to visit or to live, for your next duty station, walking the monuments on the National Mall in DC is a must do activity! The National Mall is a historic place that I feel honored to be able to live near. After several trips to the National Mall in DC we have figured out what works for those of us with kids. I truly enjoy walking from George to Abe and back.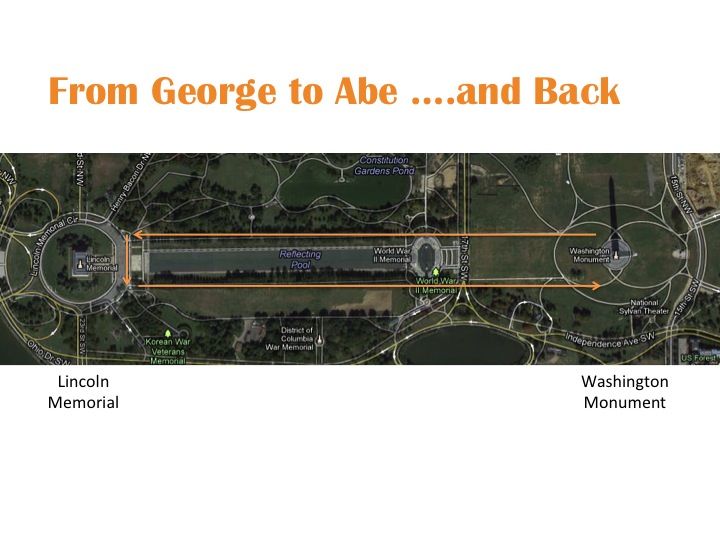 The Route! We've walked from George to Abe and back many times over the past year and a half. Let me clarify that I am talking about walking from The Washington Monument to The Lincoln Memorial and back again. Along the way you will also visit The World War II Memorial, The Reflecting Pool, The Vietnam Wall Memorial, and the Korean War Memorial.
Getting There With Kids! You can either drive into DC and park along Constitution Avenue or take the metro into DC. I recommend driving into the city and parking. It is more cost effective, less walking and less juggling kids, and allows you a quick escape when you are ready to leave.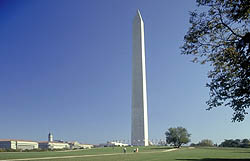 Important, Don't Over Do It! Don't put too much walking per day into your trip to the National Mall with kids. This is why I recommend walking from George to Abe and back. Adding a walk past the White House or over to the Tidal Basin to see Thomas is just too much walking for one day. I of course know this because I have done it and ended up with crying, whining kids, and spending $20 on hotdogs and pretzels from street vendors just to bribe my kids to continue to walk so we could get back to the car.
How We Do It! We drive into DC and park along Constitution Avenue. I bring a stroller for my 4 year old, water bottles and at least one snack per child. The kids must wear comfortable walking shoes with socks. Once we brought razor scooters for our older children. This worked well for that one trip. They did have to get off the scooters and walk them through the memorial areas. It is important to remind children and adults alike that the National Mall is filled with memorials which are places that we honor and respect those who have served in our wars and made the ultimate sacrifice. There is no screaming, running, or riding of scooters through the actual memorial areas. These behaviors are fine along the paths between each monument.
Get Everyone Involved! fantastic idea for helping kids to feel like they are a part of the tour is to bring a camera for them to photograph the monuments. My kids loved this!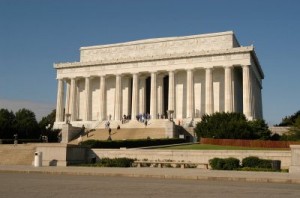 Pit Stops! A few other things to note for your visit to George and Abe: there are bathrooms along the National Mall. There are also drink and snack vendors in one spot. The Lincoln Memorial also has a gift shop in the bottom of it. The Washington Monument is not open for visitors to go up into it at this time.
One Night, Ditch the Kids! The National Mall is beautiful at night. It is a fantastic place to tour at night for adults. It is a complete nightmare to tour at night with children. Even though the monuments are well lit, the paths between the monuments are dark with uneven walkways. It is difficult to keep walking children within eyesight in the evenings. Again I know this because I have done it. My mother and one of my children got separated from our group at night. She had forgotten her cell phone in the car and had to end up asking a stranger to use their phone so she could call me and we could find her. It was scary and difficult to keep track of everyone at night.
For more information on The National Mall visit The National Mall Website.
Find more things to do in the DC area.
What's a must stop on your route?