5 Best Bakeries in Omaha
Omaha has many different options for delicious sweet goods, but here is the list of my favorite bakeries in the Omaha area.

Jones Bros Cupcakes
Located in Aksarben Village, Jones Bros Cupcakes serves up everything from delicious cupcakes, cakes, cheesecakes, coffee, and wine to delicious lunch and dinner items. They have 12 daily cupcake flavors with special flavors of the week and even sometimes "name it and claim it" for free special daily flavors. They've been featured on Cupcake Wars on the Food Network and year after year make the top of the list on "Omaha's Best Of" lists. This is a one stop shop that the young and old enjoy. Another perk is that they offer a military discount! It is by far one of our favorite places to visit and one we always take out of town guests to.

Omaha Cake Gallery
If you're looking for a special cake for any occasion, the Omaha Cake Gallery is your place. We go here year after year for fun, different, and most importantly, delicious cakes for birthdays, anniversaries, and sometimes just because! Our favorite kind is their pink (or blue if you want!) champagne cakes but they have many varieties of flavors. If cake isn't your thing, they also serve cupcakes, cookies, and bars. Check out their website for all of the cool cakes they've made in the past.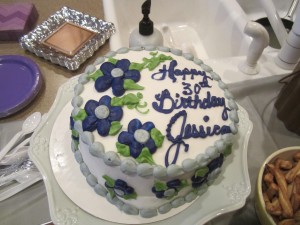 Uptown Bakery
Located in Bellevue near Offutt AFB, Uptown Bakery is a delicious stop to satisfy any sweet tooth! They have delectable cakes, cupcakes, donuts, pastries, bread, and coffee. I recently ordered a cake there for a friend and the baker was a wonderful woman who really took time to get my order just right and delivered a beautiful result. Another perk to this bakery is that they are military friendly and offer a 10% military discount on Monday's.

WheatField's
Just stepping into this place, your mouth will just absolutely drool. Wheatfield's is a restaurant, a bakery, and a catering service all rolled into one. With 3 locations in the Omaha area, you can get your Wheatfield's fix in just about any area. Here they offer the most delicious cakes, cupcakes, cookies, pies, breads, muffins, bars (oh my goodness, their bars!), cinnamon and caramel rolls around! The best time to try new things is on Monday's where all desserts are just $3. You may or may not see me in there today…so yummy! :)

Delice
This European bakery is located in Midtown and offers some diverse and delicious one of a kind desserts. They have several kinds of cookies, pastries, torts, cakes, and tarts. They are also a café so they serve brunch, lunch, and dinner as well. If your tastes are a little more eclectic, I highly recommend trying Delice!
If this small sampling of delicious bakeries hasn't made you want to run out the door to try something sweet, then I just don't know if we can be friends. There are so many options for sweets in the Omaha area, you really can't go wrong!
Find fun things to do and Military Friendly Businesses near Offutt AFB!