Omaha is a very family friendly city and there is no shortage of classes little ones can participate in. My list is just a small sample, these are the ones we've tried and enjoyed and recommend!
Kids Body Shop
If you're looking for swimming lessons starting at age 3 months and older, Kids Body Shop in Papillion has a great program. We first started our son in the Tiny Toots class when he was just 4 months old and it was a great beginning exposure to the water. Kids Body Shop also has a gymnastics program for ages 18 months and up. They also have family fun nights and open gym times that are great activities for the whole family!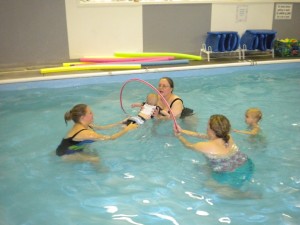 Baby Maestro
Baby Maestro is a great music program for children aged 6 weeks to 5 years old. Located in Omaha, Deborah runs a magnificent studio with classes Monday through Saturday. The classes are not based on age so siblings can be in together; they like to mix age groups to have them learn from each other. Each session runs from about 6 to 10 weeks and features a different collection of songs. Children learn the music by repetition, movement, playing instruments, and dancing. The classes are thoroughly engaging and my children have absolutely loved them! In fact, they still remember all of the songs and dances/action that went with them! We highly recommend Baby Maestro!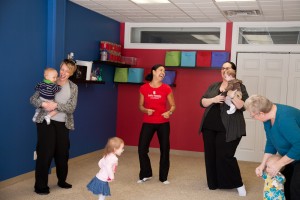 Gymboree
One of my favorite memories with my son was attending our weekly Gymboree class. Gymboree is not only the clothing brand, but a fun program that focuses on childhood development. Their classes are divided up in 6 month increments and it focuses on the cognitive, physical, and social skills of those ages. It's a great way for your children to learn new skills. My son learned to walk at Gymboree, throw a ball, and get along with other children his age. The teachers there are fantastic and my son and I absolutely loved it there. Not only do they have flexible schedules for classes but they also have several times of open play time where you can come in and have free reign on the equipment. They also now offer art classes and music classes as well. It's a little pricey, but it was a wonderful experience for us!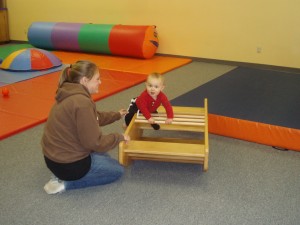 Metro Stars Gymnastics
This gym is a fabulous place to get your children's energy out! Our favorite thing is their preschool open gym on Friday mornings and for $5 for the first child and $3 for siblings, your child has the whole gym to run, jump, flip, and exhaust themselves! They also have a wonderful program called Tiny Twinklers which is for non-walking children. It's in a smaller room in the gym and it's a great time for your young children to have open play time with the equipment. It's completely free and a great introduction to gymnastics! They also have many other programs and we've heard nothing but great things about them!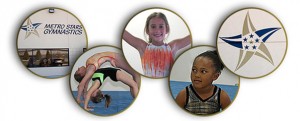 YMCA Classes
The local YMCA's have tons of great classes for preschool aged and younger children. They have a marvelous messes class, toddler art, dance classes, yoga, swim lessons, tumbling, and so much more. The classes are usually for a session which is about 5 weeks in length. The prices are very reasonable, especially if you are a YMCA member. The closest YMCA to Offutt is the Sarpy YMCA located in Papillion. There are so many options but classes do fill up quickly!
So if you're looking to get out and try a class with your young child, any of these on this list are great choices. Like I said, this is just a small sample of all the fun classes there are here in Omaha to try. Our favorite time to do these were in the winter when there's less to do and less places to run all the energy off! Go sign up for something fun with your child, you won't regret it!
Find more fun things to do, read on and off base information near Offutt AFB!