The holidays can be an extra busy time for so many people but if you happen to have some free time, there are tons of things to do and holiday activities in Omaha! I have compiled just a short list of fun holiday activities to check out, but rest assured there are many, many things you could do! In no particular order: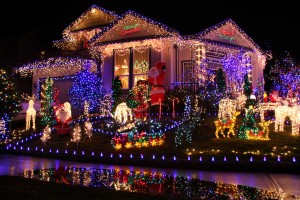 Miracle on Farnam
Head to Midtown Crossing and check out the 20 window displays created by Omaha companies and artists. It runs from November 23-January 1st. Extra bonus is the restaurants and cafes nearby you can check out before or after. My children absolutely loved it last year!
Lauritzen Gardens Poinsettia Show
Every year Lauritzen Gardens throws together a beautiful poinsettia presentation complete with model trains. Running from November 29-January 5th, over 5,600 poinsettias will be on display. Open from 9-5 children and adults will enjoy this beautiful show!
Attend City Tree Lightings
Many cities near Omaha have big events for their city's tree lighting. Papillion has their Winter Wonderland on November 28th, the Gene Leahy Mall in downtown Omaha's is November 28th, Omaha' Durham Museum's is November 29th, and La Vista's is December 2nd. Check out the local city's websites for more information as well as times and locations.
Christmas at Union Station
The Durham Museum in Omaha has the region's largest indoor Christmas tree and it is quite a spectacle! Not only do you get to view that, but you get to see the other fun exhibits at the museum. One is the ethnic holiday trees exhibit which showcases how other parts of the world celebrate Christmas.
Holiday Market
Come check out the holiday market at Aksarben Village on December 7th and 8th. Showcasing over 40 vendors you can get your holiday shopping done early and the best part is it's all local vendors. The market is in indoor heated tents and is a great event to check out some local merchants.
Spend some time with Santa
Santa arrives at the malls on November 23rd in the Omaha area. Children can get their picture taken, tell Santa what is on their lists, and maybe meet Mrs. Clause too! There are also several opportunities to have breakfast or lunch with Santa.
Wells Fargo Family Festival
This is one event not to miss! On December 8th several Omaha locations are free for families and showcase great Omaha landmarks and destinations. A trolley service is provided for families to go to different locations free of charge. The locations included are the Wells Fargo Bank (popcorn, crafts, and museum), Omaha Children's Museum, Omaha Police Mounted Patrol Barn (meet Santa's reindeer!), Durham Museum, W. Dale Clark Library (learn about the World's Fair held in Omaha, crafts, pictures, and old-time fun), and the Joslyn Art Museum. This festival is a great way to check out places you'd like to see and is some free family fun! We take advantage of it every year!
ConAgra Foods Ice Rink
December 13th-January 5th on the ConAgra campus a large ice skating rink is prepared and proceeds go to Food Bank for the Heartland. It's a great place to try some outdoor ice skating. If being cold isn't your thing, there are heated tents with snacks and warm beverages.
Go see holiday lights
A fun family tradition is to pack up the kids in the car and drive around the city looking at holiday lights. Don't feel like driving? Many limo companies in the area have holiday lights tours and will take you around to the best light displays in the city.
The holiday season can be a very busy time but there are so many opportunities for family fun in Omaha during this season. If you have family in town, you can take them to one of the many entertaining events and spots! Have a wonderful holiday season!
Find more fun things to do, read on and off base reviews near Offutt AFB!