Disney World on a budget is possible.
If you haven't been to Walt Disney World yet now is the time to go! The military deals in Orlando are fantastic and you can do this on a budget.
#1 Find A Place To Call Home
The first thing you need is a place to call home while you are visiting The Happiest Place on Earth. The Armed Forces Vacation Club is the answer. Timeshares are donated to the military for military families to use. You can stay in 1, 2, or 3 bedroom condos at 4 and 5 star key resorts. It's amazing! The condos have a full kitchen, living room, washer and dryer, and multiple bathrooms. Stick to those resorts that have a rating of 4 or 5 keys and you can't go wrong. The going rate for AFV Club is $369 per week! They often run specials so sign up for their emails.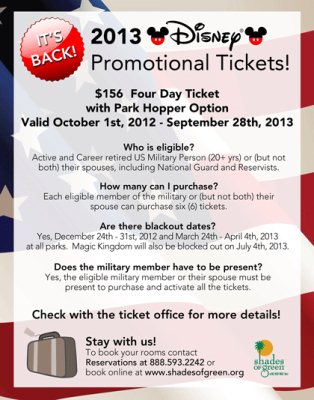 #2 Save Money On Food
The benefit of staying at an Armed Forces Vacation Club place is that you can save a lot of money on food. Stop at a grocery store and buy breakfast supplies, lunch sandwich supplies, and things for easy dinners. Tip: Disney theme parks don't mind if you bring your own snacks, water bottles, and even sandwiches for lunch. It's easy to have some bagels or bowls of cereal for breakfast. On our most recent trip to Disney World, I realized my kids were wasting so much food at lunch time, which also meant they were wasting a ton of our money. For the second half of our trip, we packed sandwiches for lunch. The kids happily ate them and a lot of money stayed in my wallet!
#3 Get A Disney Theme Park Ticket
The 2013 Disney Military ticket is a 4 day ticket for $156. There are 4 Walt Disney World Theme Parks: Magic Kingdom, Animal Kingdom, Epcot, and Hollywood Studios. The 4 day ticket gets you 4 admissions to any 4 day combination of these 4 parks. The $156 is a 4 day park hopper ticket that allows you to go from one park to another park within the same day. The truth is though once you've taken your kids to one Disney park, moving to another Disney park on the same day is not highly likely. It's exhausting.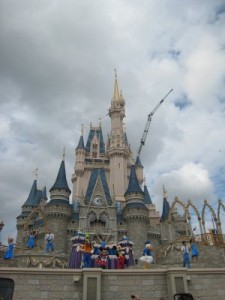 #4 Change From A 'Park Hopper' To A 'Fun & More' Ticket
The REAL DEAL is to change your 4 day military ticket from a park hopper to a Fun & More ticket. This ticket is the same price $156 for 4 admissions to the 4 Disney World Theme Parks AND 4 additional admissions to any combination of the following: Disney's Blizzard Beach Waterpark, Disney's Typhoon Lagoon Waterpark, Disney Quest 5 story video arcade/virtual reality gaming, 4 different mini golf courses to choose from, Disney's regular golf course, or Disney's ESPN's Wide World of Sports. This is such an amazing deal! Take advantage of it! Get more for your money and experience a waterpark, Disney Quest, and some mini golf all for no extra charge!
My final piece of advice is to bring your own stroller! Those Disney rental strollers are expensive. Don't waste your money on them.
Have a Magical Mickey Day!