The White House Easter Egg Roll is must-attend event!

If you are stationed in the Washington DC area make the most of it! There are numerous opportunities for military families to experience amazing events in and around the DC area. Monday, April 1st is the date for the 2013 White House Easter Egg Roll.
One of the big opportunities around here is the White House Easter Egg Roll. Yes this is exactly what it sounds like. You get to go onto the lawns of The White House and roll Easter eggs! This yearly spring tradition started with former President James Madison's wife, former First Lady Dolley Madison.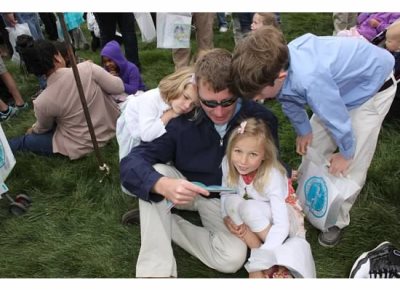 The White House Easter Egg Roll lottery has closed; however, if you are military and interested in attending the Easter Egg Roll check with your command and see if they have been given any tickets. Last year we did not get into the Easter Egg Roll through the lottery, but I had my husband check with his command and sure enough the command had been given a few tickets. We were able to get our White House Easter Egg Roll tickets through his command.
A few tips on how to survive The White House Easter Egg Roll. Survive? Yes this historical event needs a few survival tips. First and foremost DO NOT FORGET YOUR TICKETS! Ask me why I put this in capitals? Go ahead and ask... yes.. we forgot our tickets! I was so worried about making sure we didn't bring things that were not allowed that I completely forgot the most important thing that was a must. The White House gives you a list of things you may not bring to the Easter Egg Roll; I studiously made sure I didn't bring any banned items including my purse where I would normally put the tickets. Make sure you DO bring your tickets, IDs, cash, and a camera. Another survival tip is to drive your car into DC and park. It is more cost effective to drive into DC and pay to park than it is to pay for a family to ride the metro in and have to pay for metro parking. It is also less exhausting.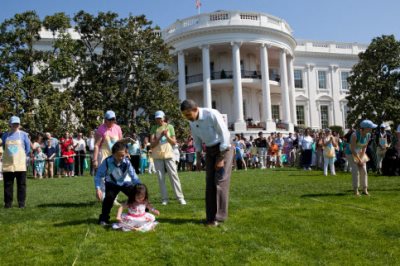 First Lady Michelle Obama shares her love and passion for a healthy lifestyle during the White House Easter Egg Roll. There are vendors with complimentary healthy drinks such a bottled water, juices, and other healthy drink options. Last year there were also clementines, apples, and other fruits for snacks.
Along with the actual Easter Egg Roll event, the lawns of The White House are covered with other activities for children. Last year my kids made their own jump ropes. They participated in a mini young children's obstacle course which Sasha and Malia and First Lady Michelle Obama actually came out and demonstrated! There are celebrities invited to The Easter Egg Roll to sing or read books to the children. You can play basketball and shoot some hoops on President Obama's White House basketball courts. It really is a unique and memorable event.
Click for more things to do in Washington D.C.