From food at the Masters to unique eats around town, there are plenty of options for even the pickiest of eaters at Augusta, GA Restaurants.
Augusta, GA restaurants
Every year, Augusta, Georgia plays host to the prestigious Masters Golf Tournament, during the first week of April. This means visitors come from far and wide to enjoy this event. So, you can imagine how many dining and entertainment hot spots there are in this eclectic city, which is also home to the US Army Signal Center of Excellence, Fort Gordon.
Good hospitality is expected in the South; great food is abundant and there is no shortage of excellent places to eat. The Augusta culinary experience boasts over 300 local restaurants serving a variety of foods, from classic Southern dishes like fried chicken, collard greens and corn bread (Sugi's Kitchen on Wrightsboro Rd.) to first-class international cuisine like Oliviana's Pizzeria and Grill in Surrey Center serving classic Italian entrees such as lemon chicken, beef filet topped with Gorgonzola cheese and rosemary pork chops; and of course, pizzas. At the Masters, you will also find the much talked about Pimento Cheese Sandwich. This tasty tradition is just as expected at the Augusta National as hot dogs at a ball game or chicken wings and beer at a Super Bowl party.
Downtown, you will find one of a kind, unique little spots to dine like The Bee's Knees, where they serve tapas and an international menu with vegan and vegetarian options, voted Best Appetizers by readers of Augusta Magazine, and the Boll Weevil, serving a light menu of soups, salads and sandwiches. Don't leave without checking out the extensive dessert selection. A slice of cake is about 4 layers high! In fact the Boll Weevil was voted Best Dessert by readers of Augusta Magazine.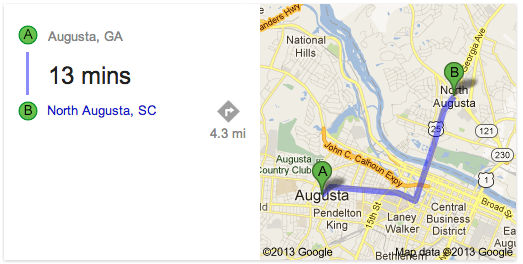 And the best part: downtown Augusta is only a bridge over water away from North Augusta, South Carolina. So basically, drive over the bridge and you're in another state with—you got it; more places to eat! Gary's Burgers is a local old fashioned hamburger joint, with locations in both Augusta and North Augusta. Their burgers are made fresh on the spot, and not lacking flavor in the least. North Augusta is also home to Manuel's Bread Café, tucked neatly away in Hammond's Ferry, a small neighborhood that looks straight from a storybook. Manuel's is a French Bistro, and there you will find genuine French dishes that are specially created by Chef Manuel Verney-Carron. Chef Manuel prides himself in serving farm to table dishes, created with organic ingredients and produce from Blue Clay Farms located right in Hammond's Ferry.
So there you have it! Besides almost every sought after chain restaurant (TGI Friday's, Red Lobster, Olive Garden, Red Robin, Steak n Shake etc.) you can find a plethora of fabulous one-of-a-kind places to satisfy your palate here in Augusta. So if you're coming to Fort Gordon, fear not. Foodies will be fine!