If you are stationed in the Hampton Roads area, you are near one of the most fun places ever to camp and it is right in the backyard of your duty station. Where is this treasure? First Landing State Park in Virginia Beach, Virginia!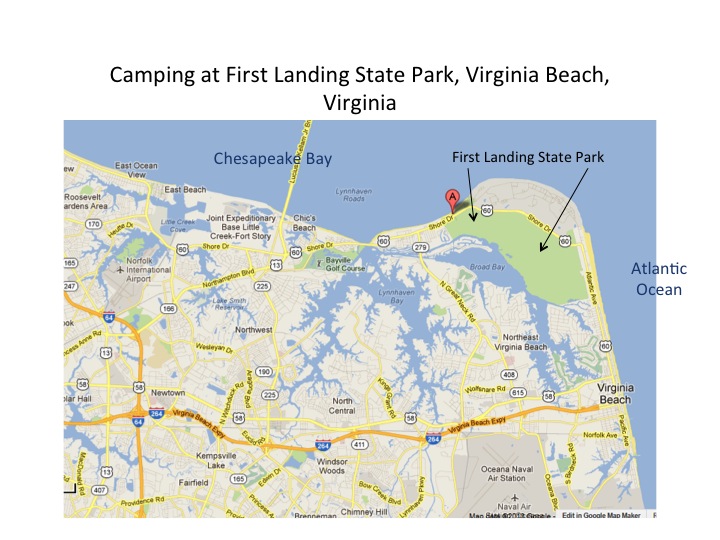 We absolutely love camping at First Landing State Park. You have the Chesapeake Bay and beach to walk on and play at and you have the huge gnarled trees to climb in and give you privacy.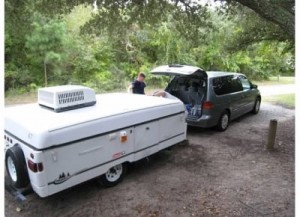 Camping in Virginia Beach is cheap!
It's the best of both worlds. You can rent a camp site for about $35 per night.
First Landing State Park also worked out exceptionally well because it was only 5 miles away from our house when we lived in Bradford Cove base housing at JEB Little Creek. It meant we could go camping, but we had the safeguard of knowing that our house and our warm cozy beds were only a few minutes away. This was a great backup plan for the kids and I as first time campers. If you are stationed at NAS Oceana, NS Norfolk, JEB Little Creek or Fort Story, Portsmouth, or Dam Neck you are a quick drive back to your house if you forget something or if someone just can't sleep in the great outdoors. It also worked well for us when our youngest child was less than 2 years old and I knew sleeping in a tent with her would be difficult. She and I would stay at the campsite until bedtime then the two of us would go home while my husband and our other two children would stay at camp.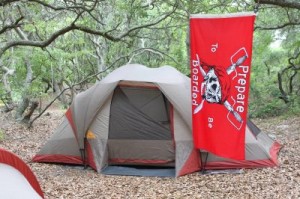 Rent a Pop Up Camper
If you really want to go camping but you aren't quite ready to sleep in a tent don't fear the answer is here! At JEB Little Creek's MWR you can rent pop up campers for about $100 per weekend. Reserve the pop up camper in advance. You pick up the pop up camper on Friday and return it Monday morning. You will need to have a vehicle with a ball hitch to hook up and tow the camper the 5 miles down the road to First Landing State Park. These pop up campers have a queen size bed and a king sized bed with a small heater and air conditioning unit in it. Bring some fitted sheets to go over the mattresses and place your sleeping bags right on top.
Here's a quick tip learned the hard way: don't let kids with sandy feet jump in your beds or you will be sleeping on sand all night! (Thankfully when that happened it was my husband that had to sleep in the sand and not me! We learned quickly!)
Where to Camp at First Landing State Park
After our first camping trip to First Landing we moved from the pop up camper to a tent. We even started bringing two tents so that one was a storage tent with all of our things and a closet/dressing room and the second tent was only for sleeping.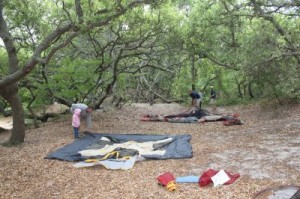 The bathrooms are a few steps away from your campsite. The bathrooms are clean and well maintained. There are indoor private showers with hot water too.
When you reserve your campsite make sure you pick a site with electric and water. The water comes out of a pump, but it is handy to have nearby.
There is a great walkway bridge over the dunes to the Chesapeake Bay and beach. Bring shovels, buckets, and a football for some beach fun! We love the beach in the late afternoon and at dusk. It's beautiful at that time of the day. If you want a fun nighttime walk on the beach bring some flashlights and take a night beach walk. Use the flashlights to find white crabs scuttling around on the sand. On one adventurous night walk one of the kids decided to try to keep a crab as a pet so they placed it in their pocket! A few minutes later we hear, I can't find my crab! When we shined a flashlight on the child the crab was crawling right up the front of his sweatshirt! Who ever thought we would utter the phrase, Don't put CRABS in your pockets!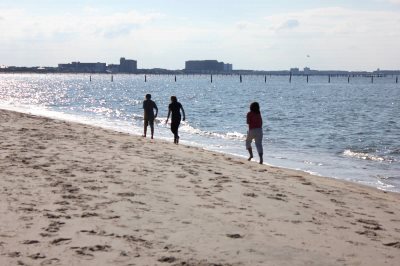 Camping Must Haves
A few more quick tips on what to pack for a successful and fun camping trip, bring Christmas lights to hang up in the trees and from the tents and campers, glow sticks for fun nighttime activities, flashlights for the young and old, towels, baby powder to wick away the sand from your skin ,and firewood and matches for campfires.
We are planning our fifth camping trip to First Landing State Park. We are just as excited as our kids are! Take advantage of this low pressure camping experience in Virginia Beach.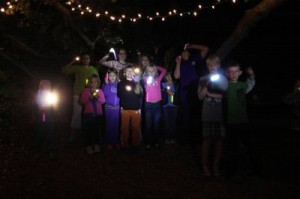 Find more fun things to do in Virginia Beach!