If you are a dog lover, you will love being stationed at Camp Pendleton! San Diego County is very dog friendly and there are many places that you can take your best furry friend! San Diego dog friendly places range from beaches and parks to hotels and restaurants. This post highlights my favorite dog park and beach in North County

Adopt a Dog from Oceanside SPCA
My husband and I adopted our fur baby, Jonas, at the Oceanside SPCA. If you are looking to get a dog, I definitely recommend visiting the SPCA and rescuing one of their dogs. They have a variety of breeds and you can have a "play date" with the dogs to make sure you choose the one that is right for you!
Chelsea, another contributing writer, adopted her dog Goose from the Oceanside SPCA, and when she moved inland, she adopted Maverick from the Escondido Humane Society. North County seems to be the perfect place to find great dogs!
Oceanside Dog Park
One thing I loved about the SPCA is the off-leash dog park that is next door, Oceanside Dog Park. We took Jonas there, at least, a couple of times a week and he always had a blast playing with the other dogs. It was a great spot to meet individuals with similar interests as we met some of our very best friends at the park. There is a large area for larger breeds, and a separate smaller area for small breeds.
The grassy park is situated on a hill so the dogs get a great workout running up and down. Feel free to make the trek up the small hill, or take a rest on one of the benches at the front of the park. The park has a "water fountain" for the dogs and there are trash cans and bags to clean up after your dog. This is an OFF-LEASH dog park, so make sure your dog can play well with others….or keep them on leash in the park until you feel they are socialized. I would not recommend bringing very small children to this park since the dogs are able to run free, but if you must bring your small children, keep them close to you for safety and don't let them run free with the dogs.

Oceanside Pet Hotel
If you are looking to board your dog, I recommend the Oceanside Pet Hotel. We boarded Jonas there several times and he was very happy during his stay! I also took him to "doggie daycare" about once a week and he spent the day in their large outdoor play group. If you have an active dog who loves to play, their group daycare will be great for your dog! I worked full time and my husband was deployed a lot, so taking Jonas to play let him get his energy out was good for the both of us! Their hours M-F are 7am-6:30 so I would drop him off before work and pick him up after. If you have a dog that needs a quieter place to stay during the day, they also have private daycare.
There are a few dog friendly beaches in San Diego County. You can find more in depth reviews and information about these beaches here: http://www.sandiego.org/articles/beaches/california-dog-beaches-parks-recreation-areas-in-san-diego.aspx
Del Mar Dog Beach
We took our dog to Del Mar North Beach Dog Beach and had a great time! I was a little nervous that there is not a fence but the beach was wide enough that the dogs were not close to the road. Make sure to bring baggies to clean up after your dog.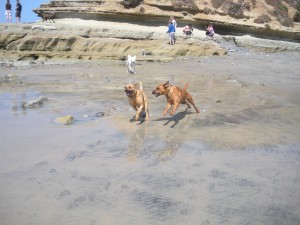 Great Places to Walk Your Dog On-Leash in North County
If you are just looking to get out of your neighborhood and enjoy the SoCal weather, take your dog (on leash) to the Oceanside Beach Boardwalk, or to the Carlsbad/Tamarack Beach boardwalk. Both of these beaches have wide sidewalks that are great for walking and enjoying the ocean view. There are public parking lots close to the Oceanside Pier. Some spots are free, others are paid, so be sure to check the signs! If you venture to Carlsbad (which was always my favorite!) there is one small lot but a lot of additional parking along the road. As always, be sure to bring baggies to clean up after your dog, and pack some water for your pup as well.
Enjoy your time in San Diego! I know you and your fur baby will love it!