What do Cracker Jacks, History & Shopping have in common?
It's Spring & there are plenty of things to do in Augusta.

1. Augusta Green Jackets Minor League Baseball Team
In Augusta, GA, It's not unusual to hear your kids say or sing "take me out to the ballgame…" It's spring, and the GreenJackets are ready to play ball! Within the ballpark, there are plenty of things to do in Augusta.
American Family Insurance hosts a Saturday Family Night with national entertainment acts suitable for children/families, giveaways and a baseball game every Saturday night during the season.
On Sundays, all children are invited to play catch on the field prior to the game and run the bases afterwards. The GreenJackets play at Lake Olmstead Stadium from April through September. For more information and to check out the schedule, visit http://www.greenjackets.net/.
2. African American History in Augusta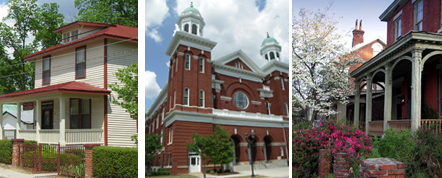 The rich tapestry of the city's history is greatly comprised of African American contribution. The National Register of Historic places lists numerous properties that have been preserved to reflect the role of African Americans.
Visit the Lucy Craft Laney, Museum of Black History and learn about Lucy Craft Laney. Born into slavery, Lucy Craft Laney became one of the state's most influential educators. She started the first kindergarten and nurses' training class for blacks in Augusta and founded the Haines Institute, which educated thousands of black students.
Families enjoy walking along Laney Walker Boulevard. The African American Historical Committee honor significant African American citizens with markers along the trail.
3. Augusta Riverwalk
Downtown Augusta is the home of the Augusta Riverwalk. The Augusta Riverwalk features a children's playground and various gardens. Two museums are located off the walkway along with the Jessye Norman Amphitheater and several restaurants. The Augusta Riverwalk is in close proximity to Downtown Augusta, with great thrift shopping, and cafes and restaurants with diverse character.
4. Shopping in Augusta
At the Augusta Mall you will find all of your favorite places to shop like Nine West, Express, Forever 21, JC Penney, Sephora and restaurants like P.F. Changs and McAllister's as well as the Chop House.
If you prefer a more upscale or high-end shopping experience The Surrey Center is the place for you. Boutique shops carry the latest trends in accessories and apparel. Find food for any taste at one the restaurants in Surrey Center.
There are plenty of things to do in Augusta. Get out and enjoy the fresh air!
To find more fun things to do, read our on and off base review near Ft Gordon!