***Military Town Advisor is a website with neighborhood reviews, military housing reviews, and much more. It has everything you need to know before you PCS to a new town.***
Deployment Countdown: 275...100...25...1...1/2 hour
The first thing we spouses do as soon as our active duty loved ones leave is start the deployment countdown. It's hard to use a physical calendar when dates are always changing - you need a lot of whiteout.
When my husband deployed, my kids would always ask how many more days until Daddy would be home. It's hard for kids to grasp such a large number of days when they are so young. My husband was extended for 30 days a few weeks after he left. It would be time consuming to white out and start over on a paper calendar.
Luckily, I found the "Doing Time" app by Alexandria Software, free for the iPhone and iPod touch. Doing time was inspired by Excel spreadsheets and pie charts that some of you may have heard of, called "The Donut of Misery."
"Doing Time" gives the number of days and the percentage left of the deployment. The best part of the app is the visual pie chart. The pie chart shows how much of the deployment has been completed (in green) and how much is left (in red). It is so much easier for kids when they can see the red part shrinking every day, especially on halfway day when the parts are equal and they can see that they're over the halfway hump. My kids know that no matter where we are, whatever we are doing they can ask to see "the countdown" and they can see the progress we have made.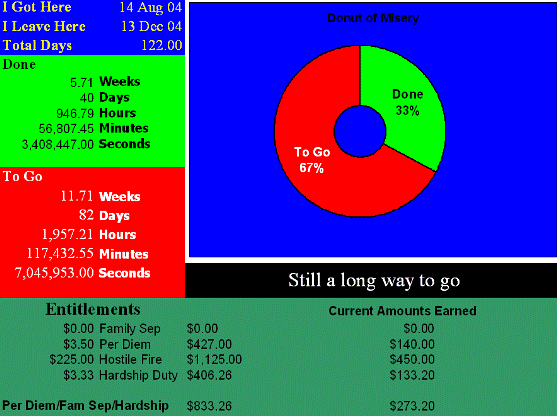 Of course, for OPSEC reasons, you want to be careful to keep a lock on your phone. If it was lost or stolen homecoming dates could be revealed.
If you are looking for things to to to make deployment go by faster check out our "things to do" section.
What do you like to do to stay busy during your deployment countdown?