When I first visited San Diego with my husband and daughter, we spent a great deal of time at Balboa Park. This is one of my favorite parks. There is so much to do and see, whether you are into Museums, Art, Culture, food, running, hiking, playing or just a day at the Zoo. I can't get enough of this place. Now that I live here I get to spend even more time there! Weekly visits to the Zoo, weekly runs in the park and exploring the gardens with the kids are just a few activities I enjoy.
The Park is a city park located in San Diego, with a history dating back to 1868. It is 1200 acres of fun and contains museums, puppet theater, carousel, mini train, gardens, outdoor theaters, shopping, restaurants and is the home of the San Diego Zoo. You can always start at the Visitors Center, where you can buy passes and maps and plan your visit.
Kid Friendly Activities at Balboa Park
If you are not up for a day of museums, there is still plenty to see and do at the park. If you have children, be sure to take a ride on the carousel! It runs regularly in the summer from 11am-6pm, and is one of the few in the world to offer the brass ring game! My older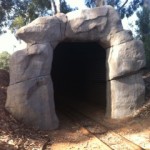 Tunnel on Miniature Train
children could ride the carousel all day. In fact when we do go to the park we have to plan on several rides. They could stay on it all day, but I'm an explorer.
The Miniature Railroad is sure to be a thrill for train enthusiasts! The train is a rare model G16 that winds through a ½ mile loop that
covers 4 acres of the park. It runs daily in the summer 11am-6:30pm. My kids LOVE the miniature Railroad; in fact we ride it five or six times before moving on to something else. During the ride you see animal statues and even get to go through a tunnel. The Train Engineer even blows the horn in the tunnel. At Christmas they have animal lights set up through the loop. It's a blast for big kids, too!
Speaking of trains, don't forget to visit the Model Train Museum. My boys love it. There are so many model trains, track and a little history, too. Last time I was there a Lego group had a huge display with working trains
One of my favorite places in the park is The Spanish Village Art Center. There are thirty-seven studios and demonstrations daily. It is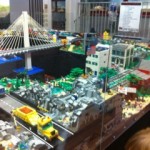 Lego Exhibit at Train Museum
open daily 11am-4pm. I love the colored paving stones throughout the village and the little studios everywhere. There are some very talented artists and it's always fun to see how creative people are.
If you are visiting with children and they need to run off some energy, Balboa Park offers numerous Play Areas around the park. One of
our favorites is near 6th and Thorn. It has recently been updated. There are also many Gardens to visit and admire, with beautiful flowers and cacti; Dog Parks for furry members of the family to run and play; numerous Hiking, Biking and Running Trails, both dirt and paved that can take you deep into the park and over to the golf course; Restaurants, oh the restaurants! There are so many wonderful smells and places to grab a quick bite. Don't forget to visit the San Diego Zoo while visiting Balboa Park, it's worth a trip! We visit weekly. If you PCS here I think it's worth buying a pass. Kids under three are free and so are Active Duty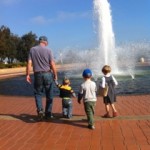 Fountains at the park
Military Discounts at Balboa Park
If you are military or a resident there is an added bonus to the park, Resident Free Tuesdays! On every Tuesdays of the month Military and residents get into certain museums for FREE! The details are here.
(There are exceptions, as with anything, special exhibits are NOT included, 3D films are NOT included, and due to large crowds strollers may not be permitted, so plan accordingly).
First Tuesday of the month:
Reuben H. Fleet Science Center
Centro Cultural de la Raza
San Diego Model Railroad Museum
San Diego Natural History Museum (Not valid for 3-D films)
The Timken Museum of Art (always free)
Second Tuesday:
Museum of Photographic Arts
San Diego History Center
Veterans Museum and Memorial Center
The Timken Museum of Art (always free)
Third Tuesday:
San Diego Art Institute
Mingei International Museum
San Diego Museum of Art
San Diego Museum of Man
Japanese Friendship Garden
The Timken Museum of Art (always free)
Fourth Tuesday:
San Diego Air & Space Museum (Not valid for special exhibitions)
San Diego Automotive Museum (Last admission 3:45pm)
San Diego Hall of Champions
House of Pacific Relations International Cottages (Select ones)
The Timken Museum of Art (always free)
Summer Events at Balboa Park
During the summer, you can catch a free movie under the stars on Morley Field.
While visiting or living in San Diego, add Balboa Park to your list of things to do! I now realize I need to spend even more time at the park! After my trip to Maine, I'm going to spend the rest of the summer taking the kids to the playgrounds and museums and exploring the park.
Find more fun things to do near San Diego!