I love nothing more than going to the thrift store and finding something awesome. One of my most recent finds was an ugly, gaudy gold peacock set. I took it home spray painted and they look fabulous in my Peacock themed room. (see photo below)
Thrift stores are hit and miss, so please don't get discouraged. Check off season for clothing. If you need jeans or work dress pants Summer is the season to get them. If you're looking for shorts or tank tops try in October through February.
I recently found a great thrift store in Pensacola, but the good news is they have locations all over the Florida panhandle!
Best Thrift Stores in Pensacola
Waterfront Rescue Mission Bargain Centers are located in Foley, AL, Cantonment, FL, Crestview, FL, Ft. Walton Beach, FL, Milton, FL, Pensacola, FL and Gulf Breeze, FL. I have not been to all the locations, but the one I went to was the cleanest thrift store I've ever been in and I've been thrift shopping for 7 years at least once a week. They have a ½ price bargain room! I found myself the "most fabulous never worn" rollerblades for $5.00. I can't tell you how much fun it's been trying to learn to skate all over again.
I have had a lot of luck finding work clothes at the Goodwill located on Brent Ln. They are an EasterSeals location so I love who they help. I also love that they have long hours Mon. – Fri. they are open until 8:00pm! They constantly have a large amount of furniture and clothing is changing out all the time. Hint: If they notice you staring at a piece of furniture, they are quick to mark down the price.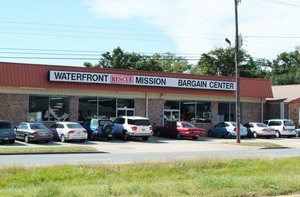 Teen Challenge Super Thrift - I've found some great throw pillows at this location. They seem to have quite a bit of home décor in stock at all times. They also have a lot of furniture, however I thought it was a tad bit pricey, but it was in great condition.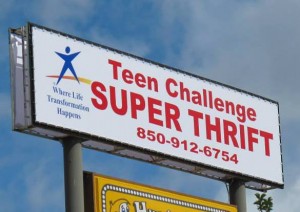 The Habitat for Humanity: ReStore - If you're looking for furniture, they have great prices! They have lots of crafting supplies and things like ceramic tiles and paint. The volunteers here are always pretty fun and very willing to help you "decorate" your house. Don't say I didn't warn you. Last time I was there, they had 10 gallons of really blue paint, and they kept telling me blue was the color of the season. ;) They have two stores in the Pensacola area one is located in Pensacola the other is located in Milton.
Taking on a project doesn't have to be expensive. Redecorating a room may take a few months. Give it some time I'm sure you'll find what you're looking for at bargain prices. Happy treasure hunting and "May the odds be ever in your favor".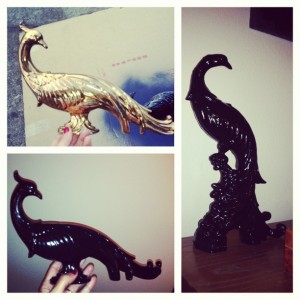 My transformed Peacocks!
For more fun things to do, read our on and off base reviews near Pensacola!