Stationed in the Washington DC area? Looking for something unique and fun to do?
Want a place that you can enjoy as a family or as an adult?
(Known as Old Town to the Locals)
1.
Shopping in Old Town
Shopping is fun & a pleasant experience in Old Town.
Whether you are looking for unique boutiques with household decorations, adult clothing, baby items, or a private book store, all of these are available as you walk down King Street in Old Town.
Big name stores such as GAP, Banana Republic, Anthropologie, and LOFT can be found in Old Town.
Choose a unique boutique and stop at 3 Sisters clothing store,
Imperfections Antiques & Great Stuff or Bloomers.


2.
Old Town Alexandria Restaurants
Eat a fresh and healthy lunch at The Perfect Pita.
Enjoy chocolate fondue or chocolate French toast with Bavarian creme at Bread & Chocolate.
Have a bowl of chili at The Hard Times Cafe where they started making chili during the depression because it was inexpensive. They bring samples of their four varieties of chili to your table.
Have a delicious date night dinner at Daniel O'Connell's or enjoy a late night drink at 1 of their 7 bars.
Splurge on an evening at The Chart House located right on the water ask for a waterside table.
Plan a Girl's Night Out at Jackson 20 or La Tasca.
The food choices are plentiful in Old Town!


Photo from http://www.hardtimes.com/locations/alexandria/
3.
Ice Cream Shops in Old Town Alexandria
Take the kids into Old Town for a yummy ice cream treat!
Try a local ice cream shop such as The Creamery or Pop's Old Fashioned Ice Cream!
Both are delicious! *We know because we've been to both!*
Ben and Jerry's has an ice cream store front as well.
YoLove Frozen Yogurt boasts a toppings bar for a unique twist.
4.
Learn a Bit of History in Old Town Alexandria
Ride the FREE King Street Trolley!
The Free King Street Trolley runs every 15 minutes between N. Union Street and the King St-Old Town Metro station from 11:30 a.m. to 10:15 p.m. daily, with 20 stops for hopping on and off.
Visit The Torpedo Factory Art Center:
Watch local artisans creating. Walk through the 1918 Torpedo Factory.


5.
Old Town Alexandria Hotels
If you find yourself house hunting or visiting Washington DC, Old Town Alexandria is a great location to make as your base camp.
King Street Metro Station is within walking distance from most Old Town Alexandria Hotels.
Walk to all of the fabulous above attractions or ride the King Street Trolley
after a day of house hunting or touring.
We have stayed at the Embassy Suites in Old Town and loved it! It even has a pool for the kids to play in.
Friends have stayed at Hotel Monaco for a lovely adult get away weekend.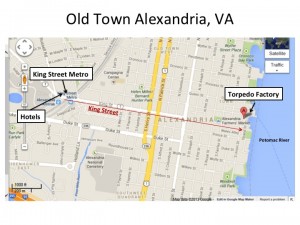 Find more things to do near The Pentagon!