Summer is a winding down and before we know it the leaves will be changing, we'll be drinking hot apple cider, and the kids will be gearing up to go trick-or-treating. That's why now is the best time to start planning fall outdoor activities in Omaha. Luckily Omaha has a ton of family friendly places to visit in the fall. So get your pen and paper and get ready to have some fun!
Family Friendly Outdoor Activities in Omaha
Vala's Pumpkin Patch
One word is all you need to utter in these parts: VALA'S!! Vala's is the go-to pumpkin patch place in Omaha and is something people that PCS from here really miss during the fall. With over 50 attractions and activities you can plan on spending hours, if not days here. Our favorite attractions are the corn maze, hayride, train, bouncing pillows, pig races, and the punkin' chunkin'. Our squadron rents out a campfire every fall and it's a great place to have a group gathering. Another great feature of this pumpkin patch is that they offer discount days for active duty military. It's a significant discount so our squadron always takes advantage of the savings! It's a great place to either pick your own pumpkin or grab some the staff has handpicked!


Pumpkin Patches
Although Vala's is really a one stop shop for all things fall, there are other amazing pumpkin patches in the Omaha area. Bellevue Berry Farm and Pumpkin Ranch is a great option just down the road from Offutt AFB. They have fields where you can pick your own pumpkins, hayrack rides, haunted hayrack rides, haunted house, pirate ship, train rides, and lots more fun! Admission is significantly less than Vala's and it has a smaller town feel to it. Parking is a lot easier here as well so if you're looking for a less crowded, still very fun pumpkin patch, I recommend this one! Another pumpkin patch outside of the metro is Bloom Where You're Planted, 35 miles south of Omaha. They have hayrack rides, a petting zoo, U-pick patch, large swings, and farm themed play areas.
Find all the pumpkin patches in the Omaha area.

Apple Picking
Apple picking is a quintessential fall activity and luckily Omaha has many options to do just that! Some of our favorites are Trees, Shrubs, and More in Bellevue, Ditmar's Orchard in Council Bluffs, IA (just over the river), and Kimmel Orchard in Nebraska City. Trees, Shrubs, and More is a smaller orchard just minutes away from Offutt. The trees are smaller and I think it's easier for the little ones to pick. The staff is very helpful and friendly and tries to make your apple picking experience easy and fun! Ditmar's Orchard in Council Bluffs has 17 different varieties of apples. They also have just about the best apple fritters around! J Ditmar's has fun activities for the kids including a corn maze, corn box, and tractor pulled rides. At Ditmar's apple picking is an experience not just an activity! Finally, Kimmel Orchard in Nebraska City (45 minutes south of Offutt) hosts the ever popular Apple Jack Festival in late September. They have been growing apples at this orchard for 90 years and have 26 varieties. It's a wonderful orchard that is definitely worth the drive!


Farmer's Markets
The area farmer's markets come to close on October 20th. The best farmer's markets in Omaha (my personal favorites) are the Old Market Farmer's Market, the Aksarben Village Farmer's Market, and the Village Pointe Farmer's Market. For them, promoting local food is an Omaha tradition. Visiting one of these markets is an experience and you are welcomed by beautiful sights of fresh vegetables, fruits, flowers, and tantalized by the aromas of locally grown and made foods. They're wonderful to visit when the fall weather rolls in and it's a perfect outdoor weekend fall activity!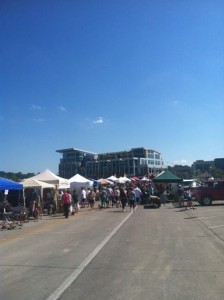 There are so many fun things to do in Omaha during the fall and this is just a small sample of them. The important thing is to get out with your family, go exploring, and enjoy the area in which you live!
To find more fun things to do, read our on and off base information near Offutt AFB!