We have lived in Pensacola for just over 3 years and have really enjoyed our time here. In typical Florida fashion, the summers are hot and humid and the winters are mild. I've put together a list of outdoor activities in Pensacola Fl so you can enjoy your time there, just like I did.
Beaches in Pensacola
The beaches here on the Gulf are gorgeous. Blue water and white sand as far as the eye can see. As an active duty military family, you can get a free pass for the state parks. We love to use our pass at Johnson's Beach in Perdido Key. They have bathrooms, covered pavilion areas and you have the option to hang out on the beach or on the sound side which is perfect for smaller children because there are no waves. After the beach, we go to Da Girlz Place (open during the summer, 17401 Perdido Key Drive) to get authentic New Orleans style snowballs! A perfect treat on a hot summer day.


Pensacola Zoo
There are two zoos in the area- 1.) The Little Zoo That Could is located in Gulf Shores, AL. It is small, but has a lot of shade which is certainly nice in the summer. They have a lot of goats and monkeys, no giraffes or elephants but they did have a lion and two tigers when we went. 2.) The Gulf Breeze Zoo is bigger, but does not offer much shade, we went in March and were pretty miserable. They don't have any elephants either (much to my daughter's dismay), but they did have a larger assortment of animals and even some giraffes.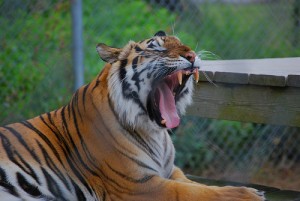 Baseball Game
Pensacola has added a few new fun options in the past year or so. We are now home to a minor league baseball team, The Blue Wahoos. Grab your peanuts and cracker jacks and go cheer on our hometown team! Another fun addition that has recently opened at the stadium is the Imagination Station and learning lab.
We had a blast at the Imagination Station! It was perfect for both our 2 year old and our 11 month old. They have tons of books and toys for the kids to enjoy. My daughters' favorite part was the mechanical John Deere tractor (just like the kind in front of the grocery store but FREE!) They also have a fire truck reading nook and huge stuffed Big Birds and Elmos for the kids to curl up on. Older kids can enjoy watching a documentary and reading books on the history of baseball in Pensacola. The Imagination Station is located inside the Pensacola Bayfront Stadium in downtown Pensacola. Regular operating hours are Monday, Wednesday and Friday 9 a.m.-12 p.m. Also open during every home game one-hour prior to game start.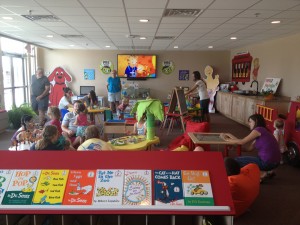 Some other fun outdoor activities
Tanger Outlets in Foley, AL
The Strawberry Festival (held in April every year in Loxley, AL)
The Elberta German Sausage Festival (held twice a year in Elberta, AL)
Blueberry picking at Hillcrest Farm in Elberta, AL
Pumpkin patch at Holland Farms in Milton, FL
The Chumuckla Redneck Christmas parade is A BLAST!
For more fun things to do, read our on and off base reviews near Pensacola!