I love Colorado Springs. It's my hometown, and in my opinion, being stationed there is amazing. You're at the front door of the Rocky Mountains, in the state with the lowest obesity rate in the country (CBS News), with great schools and a fabulous area to raise a family. However, PCS'ing can tug on those wallet-strings, so if you're new to the Springs, here are some ideas to get your kiddos out and about for free!
Activities in Colorado Springs
Tour the Olympic Training Center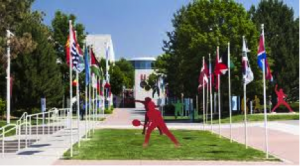 Colorado Springs is home to the Olympic Training center, the facilities that train our go-for-gold athletes. Where better to train them, than at elevation? Free tours of the facility are offered, so go show your kiddos what can be accomplished with a crazy amount of hard work!
Visit North Cheyenne Canyon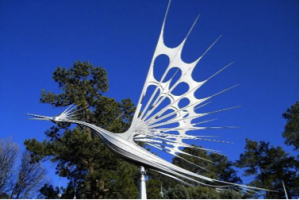 This is my stomping grounds, and about a stones throw from my parents' house. It's a gorgeous area that makes you want to thank the military-powers-that-be for stationing you in Colorado.
Start by seeing Starr Kempf's amazing metal sculptures that grace what used to be his front lawn at 2057 Pine Grove, Colorado Springs, CO. They're worth the few minutes it takes to absorb them!
Then head over about a block into Cheyenne Canyon, where you'll find...
The Starsmore Discovery Center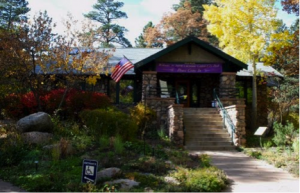 Here, you can grab a free map of the canyon, and research the programs they offer for nature hikes and kids.
Now, Drive up North Cheyenne Canyon to…
Helen Hunt Jackson Falls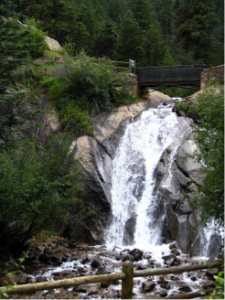 They are named after Helen Hunt Jackson (1830-1885), author of Ramona, advocate of Native American rights, and fellow military spouse. Take the kiddos, hike up the falls, snap some pics and then head up the trail for a beautiful hike. The views will blow you away, and the trail will get the energy of the kiddos out! Take a picnic lunch and round out your day.
On the way back, instead of heading down the canyon, head up a little further and drive lower Gold Camp Road back down into Colorado Springs.
Gold Camp Road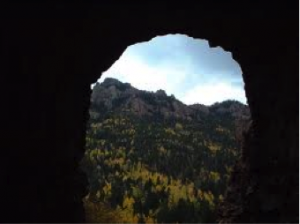 Theodore Roosevelt once called Gold Camp road, "the trip that bankrupts the English language." Designed as a railroad up to the mining towns of Cripple Creek and Victor, the road still bears the train tunnels local teens claim as haunted. I promise, they're not. ;) Make sure to drive slowly along these curves, it's hard to tell if another car is coming toward you. The upper portion has been closed since 1987, when a tunnel collapsed, and the full trip to Cripple Creek is now rerouted through Old Stage Road (located on Cheyenne Mountain). Wind down the road and you'll end up with gorgeous views of Colorado Springs. Wave to my parents as you pass Skyway Heights, and let's hope my dad isn't outside in his pajamas. ;)
Head up 14 miles north of the Springs and visit the Air Force Academy, one of our nation's four service academies.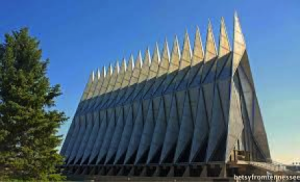 The chapel there is a must-see! While you're there, visit the hiking trails, the Honor Court, Arnold Hall, the Cadet Field House, Falcon Athletic Center, Falcon Stadium, the Association of Graduates building and the Visitor Center. The cadet areas like the terrazzo have been off limits since 9-11.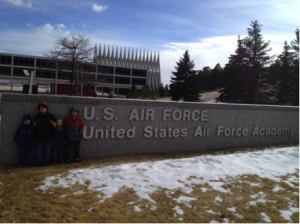 The area is gorgeous, and even if you're an army family (my kids shouted "go West Point!" when we took a picture there… seriously, without prompting. Sigh.), it's easy to appreciate the splendor of this service academy.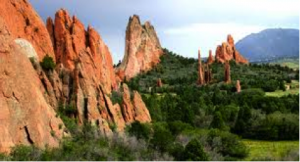 Hike amid the startlingly beautiful red rocks, catch some nature, and enjoy the wonder. Garden of the Gods, is definitely one of Colorado Springs' treasures. Gifted to the city in 1905 with the agreement that it be open to the public as a park, it draws me in every time I'm home.
Make sure you stop and take a picture of the "Kissing Camels,"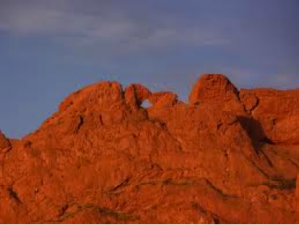 And snap a pic of your kids holding up "the balancing rock."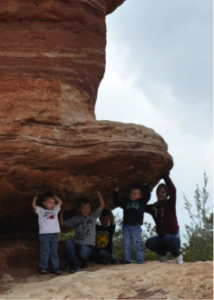 Stop into the trading post if you feel like purchasing a trinket! Even if you don't get out of the car, the drive is stunning, and one of the best that Colorado Springs has to offer. It's something you just can't miss if you're stationed in Colorado Springs.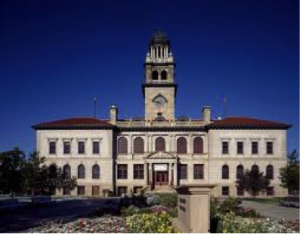 The Pioneer Museum in Colorado Springs is dedicated to preserving the history of the city and the region. It offers exhibits based on local history, as well as traveling exhibits. There are tons of seminars, some of which are catered to children, and many of which are free. Soak up the history of your duty station!
And so ends Volume 1. I promise, there's never a reason to be bored in Colorado Springs, no matter the state of your wallet. In an area rich on hiking, biking, and outdoor fun, there's always an adventure to be had!
For more fun things to do, read on and off base reviews near Colorado Springs!