Everyone always refers to Fort Leonard Wood as Fort Lost in the Woods, and rightfully so. Until we actually got here, I really didn't believe all the hype. My husband had been stationed here for training a few years back and I would occasionally fly in on the weekends to visit him. I always thought it was a nice area. Maybe not a ton to do, but it was survivable.
Fast forward three and a half years, and two kids later. We're now at Fort Leonard Wood full-time. I stay home with the girls while hubs goes to work. I no longer get to fly out once the weekend is over and now I have two little ones to keep entertained. After the first few weeks here, hanging out at home wasn't cutting it any more. I started venturing out with the girls in search of activities to keep us occupied. While we are most certainly still suck in the woods, there were a couple of fun outdoor activities for kids near Ft. Leonard Wood that kept us entertained this summer.
Outdoor Activities near Ft Leonard Wood
Tiger Typhoon has been a huge family favorite this summer and is great for kids of all ages. Although you have to pay to get in ($3 for ages 4-54 & $2 for 54+, cash or check only), it's a great value for your money. There is a shallow splash area, perfect for the little ones, that has a playground structure with slides. For the older kids, there are three large slides, a rock-climbing wall, and a basketball hoop. The lazy river is perfect for all ages. Best of all, they offer free float tubes for the river and one of the slides. Food and drinks are available for purchase. This is a location that you could spend an entire afternoon at.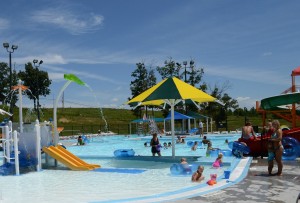 Just across the street from Tiger Typhoon is the St. Robert Municipal Park. My girls refer to this one as the colorful park because the playground is made up of so many toy structures of different colors. This park features plenty of slides and extra high parts to climb on. I'm talking about 10+ feet up! If you get anxious like I do with the kiddies climbing up that high, it might be best to skip this one with extra little guys. There is a smaller toy meant for the toddlers, however it doesn't have much more than a slide.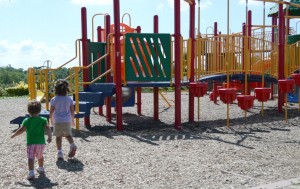 Even though this park is a 10-15 minute drive from the Main Gate, it's definitely worth the drive! There are two separate playgrounds for younger and older children, plus a completely free splash pad. If park time is a chance for you to relax like it is for me, there are plenty of tables and benches in the shade around the perimeter of the playgrounds. You can also find walking trails along the river if taking in nature is your thing. On Saturdays during the summer, Waynesville Community Park hosts farmers markets where you can find fresh fruits, vegetables, egg, and baked goods, among other items for sale.
Fort Leonard Wood Recreation Complex
If you don't feel like leaving post, this is the place for you!! The MWR Rec Plex has a little bit of everything for a full day of family fun! You can ride the go karts, play a 18-hole round of mini golf, and then cool off at the pool. Prices for the go karts and mini golf are reasonable, and pool/splash park prices vary by rank. One of the best parts about this pool is that there is a covered toddler area. Unfortunately, the Rec Plex is only open from mid April through October.
We have yet to spend a winter in St. Robert, but I'm looking forward to finding some new activities. It might be the first time our little ones have a chance to play in the snow. I bet all of the hills in the area will be great for sledding.
Find more fun things to do, read on and off base reviews near Ft Leonard Wood!