Ah, yes, the special occasion. If you've ever PCS'd during a special event, like your spouse's birthday, or one of those all-important anniversaries, you know how hard it is to find that "special place" to take them when you know next-to-nothing about your new duty station. We're talking the uber-romantic, slide on that dress and pick out a tie, because dinner itself is the event kind of restaurants. Picking the wrong place can take your special date night from romantic to comical (or even disastrous) the moment you walk in the door, so it's important to get it right. (This goes double for you husbands out there…) My husband and I are suckers for a fantastic restaurant, so if you're looking for the best, most romantic special-occasion restaurants in Colorado Springs, here's our personal countdown that's worth the hit to your waistline and your wallet.
My List of very Romantic Date Night Restaurants in Colorado Springs
Oh yes, Jason and I love this one. If you're up on the North Side of Colorado Springs, (Air Force Academy), this one is right in your back yard. The restaurant does its best to use local ingredients, and the southwest style makes it a unique treat among fine diners in the Springs. We're big fans of the five course menu, and that pork? YUM. Seriously. It's more causal than others on this list, so if you opt for a more open, airy feel, this one is for you.
Take a drive west up to Manitou and you won't be sorry you went to the Briarhurst Manor. Built by the founder of Manitou Springs in 1876, this restaurant has the gorgeous views of the mountains, and still the intimate charm of an English estate. The Independent awarded it "Best Restaurant for a Wedding Reception," and Open Table voted it one of the "50 Most Romantic Restaurants in the United States." It has fabulous wild game on the menu if you're feeling adventurous, and more traditional fare if you love the well-known. Me? I happen to adore the steak! It's definitely a great restaurant for a romantic dinner!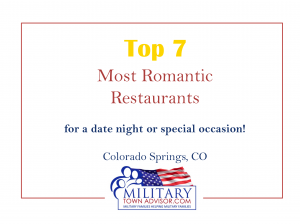 A great new choice for fine dining can be found at the Broadmoor, and The Summit looks awesome. I'm taking my sister's word for it, since we haven't made it over there since it opened, but the awards are speaking for themselves. Frommers named it one of America's 10 Best Hotel Restaurants, the Robb Report as "Best of the Best," and Esquire as "Best New Restaurants," and "Best New Restaurant Design." You're looking at seasonal selections that change the menu up and a gorgeous setting by the window as you look out at the Broadmoor. The only downside I'm hearing from my sister is that it gets a wee bit loud in there, so it might not be as romantic of a setting. My sister recommends the Hangar Steak, and we're definitely hitting this up on our next trip home!
If you're feeling super fancy, we love this one. There's really not much I don't like about the Broadmoor, since I've been going there since I couldn't even swim, but as an adult, The Penrose room is definitely a special-occasion must. Located in the Broadmoor South, the views of Cheyenne Mountain are gorgeous, especially if you arrive around the sunset hour. We're fond of sitting nearest the window, but again, there's no really bad seat. Get ready to open your wallet, dinner here is pricey, but so worth the experience. This is Colorado's only 5 Star and 5 Diamond restaurant. Our favorite thing to order is the Chef's Tasting Menu, both because we are pretty indecisive at restaurants, and because we love stepping outside our comfort zone when it comes to fine dining. This is our known weakness, peeps. So if you really want to lay on the "Impressive Date Night" charm, this is definitely your local.
If you're looking for the super-romantic, this is a fave of ours. Head west and up to Manitou Springs, where if the location doesn't charm you, the restaurant will. And hey, what's not to like about cooking your own food? The atmosphere is quiet and romantic, with soft lighting, and intimate rooms where you can easily find yourself dining alone with your partner like the only two people in the restaurant. Their wait-staff is super attentive, and brought home the best Wait Staff award by the Independent in 2012. The Colorado Springs OpenTable awarded it best Romantic and Special Occasion in 2012, and it's well-earned. Ask to sit in one of the more private rooms for a more exclusive feel, and select your favorite from the Fondue for Two options. Jason and I took a risk with the Wild Game, and loved it.
If you're looking more trendy, less romantic, head to the Famous, downtown Colorado Springs. The steaks are seriously fabulous. It's raking in the awards the last few years; 2013 has seen it win Best Steak and Best Fine Dining by the Gazette. 2012 earned it Best Fine Dining and Best Steakhouse by the Independent. The atmosphere here is louder, less intimate, but it's central location makes it easy for access, and the food is worth the trip if it's further for you. We're fond of sitting closer to the back, where we have a better chance at quiet, but there's really not a bad seat in the house. What should you order? Duh. The steak. Hands down.
and....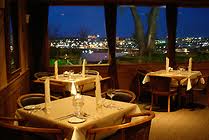 Staying close to the South Side for all you NORAD/Carson peeps, this has been my family's go-to restaurant for special occasions since I can remember. Birthdays, graduations, proms, wedding rehearsal dinners, and night-before-deployments have been spent here for us. It's also won "Best Fine Dining" by the Colorado Springs Independent 5 years out of the last 10. It's small, intimate, the service is impeccable, and the food is just as good. If you can't decide what to order, I'm a huge fan of the pepper steak. It's their signature dish, cooked tableside, and has me seriously drooling right now as I type. Make your reservations ahead of time, because tables are scarce, and if you're looking for Valentine's day, you'd best call now. Yes, I know it's September, but really. NOW. When you make your reservations, ask for a table by the window, so you can catch the gorgeous lights of Colorado Springs below, and then sit back and relax!
Are there any you would like to add to my list of top date night restaurants in Colorado Springs?
Other Resources:
Find fun things to do, read on and off base reviews for Colorado Springs!