Whether you are stationed in the Washington DC area, here on house hunting leave, or just visiting, the U.S. Capitol is a great place to tour. It's free and it's easy!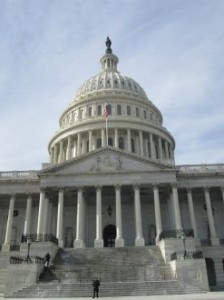 Tours of The United States Capitol are Free & Easy!
Free tours are approximately one hour long. They begin with a 13 minute movie about the Capitol's history titled Out of Many, One. This is a family friendly movie. You can relax in comfortable stadium seating in a beautiful theater during the movie. The rest of the tour is a guided walking tour. Capitol guides wear a microphone; visitors wear a headset that broadcasts what the guide is speaking.
Once inside the historic Capitol, visitors will see the Crypt, the Rotunda, and National Statuary Hall. All tours begin and end at the Capitol Visitor Center.
U.S. Capitol tours are fully accessible to those with disabilities. Wheelchair and stroller friendly groups are designated as the ones that use the elevators. Sign language interpreters are available when booked in advance. Service dogs are allowed. An audio-descriptive tour of Exhibition Hall provides visitors who are blind or have low vision with a self-guided experience of the Capitol Visitor Center's exhibits, plus the audio tour with the guide.
Tours of the U.S. Capitol are FREE, but tour passes are required. Get passes to tour the United States Capital Building. It is easy to book a U.S. Capitol tour online.
Tours can also be arranged on a walk in basis, if the U.S. Capitol is not overly busy on any given day.
The Senate and House galleries are open to visitors whenever either legislative body is in session, however the galleries are not included as part of the U.S. Capitol tour. Passes are required to enter either gallery at any time. Visitors may obtain gallery passes from the offices of their Senators or Representative.
After the tour you can use the quick tunnel to walk to The Library of Congress. You can also do a self-guided tour of Exhibition Hall. Enjoy a snack or refreshments at the Capitol's restaurant in the Visitor's Center area.
The Capitol Visitor Center is open to visitors from 8:30 a.m. to 4:30 p.m. Monday through Saturday.
My 8 year old daughter and I enjoyed a lovely day at the U.S. Capitol together.