If you've been stationed at Naval Base Kitsap before or have simply shared your new orders with someone else who has, you might have heard some bad things about Bremerton. I won't sugarcoat it; Bremerton has its bad spots just like any other city, but before you write it off completely, take a trip down to the Harborside area and see all the gems that little area has to offer!
Come Visit Beautiful Bremerton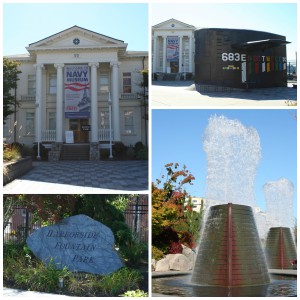 Things To Do in Bremerton
Harborside Fountain Park – This beautiful little park is a popular spot to bring the kids on a hot summer day or bring a date on a clear evening. With the sounds of the rushing waters and the views of Puget Sound, it's a can't-miss attraction. (FREE)
Puget Sound Naval Museum – With beautiful displays, hands on activities, and a fun kid's room, this museum is fun for all ages and a great learning experience for anyone interested in the naval history of this area (both surface and submarine)! (FREE!)
USS Turner Joy – Tour this Vietnam War era Navy destroyer for a glimpse into the history of our United States Navy. (Military discount applies.)
USS Parche (SSN 683) – Located in front of the Puget Sound Naval Museum, read the tale and touch the sail America's most decorated ship! (FREE!)
Seattle-Bremerton Ferry – Take ride on the ferry for a one hour view of Puget Sound and the prettiest route to Seattle! Walk on board or bring your car, depending on your travel plans for the day! (FREE to Seattle. Fee applies on the return trip.)
Good eats! Sample some of the area's best seafood at Anthony's, test out a few tapas at Toro Lounge, or bring your big appetite to The Bremerton Bar and Grill. If you're in the mood for fast food, there's also Subway, Starbucks, Taco Del Mar, and more. Also don't forget the Sunday Farmer's Market at the Ferry terminal April – October!
Shopping and Entertainment! This area has many quaint shops to stop by as well as wonderful live entertainment at the Admiral Theatre and the newest movie theater in the area, the Seefilm. This area is also host to the annual Blackberry Festival, Rock the Doc Summer Concert series, and many other great activities through the year.
Bremerton gets a bad rap, but this part of town is one you won't want to miss. Bring the kids. Bring your spouse. Bring the family from out of town. It's come one, come all fun in the Harborside area!
Researching Kitsap County?
Read Off Base Neighborhood Reviews and Military Housing Reviews for Kitsap County