Lucky you! You're on your way to one of the most requested assignments the military has! Joint Base Lewis-McChord has so much to offer, that the majority of military families have to squeeze in every must-see tourist outing before it's time to PCS once more.
No doubt you've heard about the rain. And more rain. But, consider this, the average rainfall for the area is close to the national average. The rain just spreads thinly via drizzle over a longer amount of days. Washouts aren't common, so the local population just goes with the rain flow and carries on with their planned activities.
Speaking of activities, there is more than plenty to do and see locally, not to mention within a day's drive or flight. Even international travel. Hello, Canadian friends!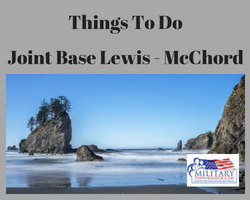 When the weather is gorgeous, and even when it isn't, make every effort to enjoy the outdoor beauty of the Pacific Northwest.
Washington's coastal towns are not to be missed. Rocky, sandy, calm, and turbulent, you'll find every type of beach going adventure. Everyone has their own favorite beach towns, so you'll have to explore them all to decide on your own. Near the military bases, you'll find Point No Point, Pacific Beach, Long Beach Peninsula. These are the local favorites. Further away and up and down Washington's coast, try Hobuck Beach, Shi Shi Beach, Rialto Beach, and Seabrook.
For the sports fans in the family, there's a lot to see up close instead of watching the game on TV. Safeco Field is home to the Seattle Mariners, the Mariners Hall of Fame, and the Museum of Pacific Northwest Baseball. Don't forget those NFL Seahawks and their 12th Man, YOU! NHL fans, a brand-new team is the works, so watch for their debut. The Seattle Sounders and Storm round out the pro teams. As always, check JBLM's MWR for reduced ticket prices.
Ferry rides, boat rides, cruises, any kind of ride on the water is required JBLM living. The Puget Sound is very accessible to base and offers so many options to check out sea life, either on your own or by guide. If lakeside adventuring is more your speed, the base also offers cabins for rent.
More outdoor fun:
Point Defiance Park, Zoo, and Aquarium

Pike Place Fish Market, in addition to any farmer's market you may stumble upon

San Juan Islands

Mount Rainier, North Cascades, and Olympic National Parks

Nisqually National Wildlife Refuge

JBLM offers splash pads and parks throughout base. Kayaks, fishing boats, and pontoons are available for rent on American Lake.
For the days when you feel like avoiding the sprinkles, try a few of these destinations inside.
Military towns do love a collection of breweries, and JBLM has 20 to pick from! A visit to Narrows Brewing company gets you a waterfront view from the Narrows Marina to go with your beer tastings in the tap room.
Does Nordstrom make you happy? At the grand flagship store in Seattle, shop your heart out and then enjoy food from either of the two restaurants. If you need a pick-me-up, there are choices for either a cocktail or coffee. Spa Nordstrom is worth a trip of its own to experience the day spa amenities.
Museums and learning sites are plenty in the tri-city areas of Seattle, Tacoma, and Olympia. Your kids will love the Hands On Children's Museum, get a little education at the State Capital and take in iconic views from the Space Needle.
More inside fun:
Children's Museum of Tacoma

Museum of Flight

Pierce County Science Dome

Museums of Glass, History, and Art
Don't forget to plan a full-on vacation or long weekend travel adventures. JBLM has easy access to many locations that are more expensive and time consuming from the middle section or the east coast of the U.S.
Give the Hale Koa a try in Honolulu, Hawaii.

Anchorage, Alaska is only a 3-hour flight from Seattle.

Portland, Oregon has a unique vibe and plenty to offer foodies and beer and wine connoisseurs. Try ALL the doughnuts you can find!

Northern California's wine country is a long day's drive from JBLM.

Get a new passport stamp visiting locales in Canada--British Columbia, Vancouver, and Victoria. Feeling a little more adventurous? Head to Banff for the ultimate in snow skiing.
If by slim chance you still need recommendations, reach out to other military families and locals. Most of the area's residents are gushing with high praise and have opinions of the best things to do and see near Joint Base Lewis McChord.
By Dawn M. Smith