Why military pay for gym memberships?
In Hampton Roads there are lots of bases in the surrounding area, but many military families live anywhere from 30 -45 minutes away from the base so using a gym base isn't always an easy solution. The decision to pay for a private gym is always a tough one.
I. BASE GYMS
The best thing about base gyms is they are FREE with access to cardio machines, weights, and some bases have group classes
Why isn't there daycare for military families?
The biggest issue I have with base gyms is the majority of them don't have childcare. I realized some bases, like Little Creek Gym, have a 'family room' where a parent can workout with their child next to them in a glass enclosure, however I am always concerned with its cleanliness and my child always ends up crying and wanting me to play with them. I hardly ever make it through a 30 minute workout while utilizing these rooms. These rooms would be perfect for a newborn who can stay in their car seat the whole time. The only other option I have heard of is utilizing the CDCs drop-in care, but that depends from base to base and is subject to availability for that given day. You would think the military would support family members workingout to help promote a healthy lifestyle and to reduce stress, but I guess it isn't in the military budget so we must pay to go somewhere else. I truly believe if they supplied childcare (I would even pay per hour for it) then military families would be able to utilize the base gym facilities more often.
5 Things to consider when choosing a private gym are:
-Location
-Childcare
-Amenities/Extra Programs
-Frequent Class Schedules
-Price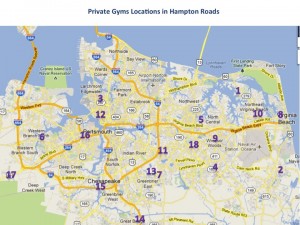 Gyms around Hampton Roads
II. LOCAL PRIVATE GYMS around Hampton Roads
Gyms with Childcare are:
(1) Great Neck Road (Shore Drive Area)
(2) Red Mill Area (South NAS Oceana)
(3) Norfolk- Downtown/ 21st Street Area
(4) Virginia Beach- Princess Anne
(5) Virginia Beach- VA Beach Blvd
(6) Chesapeake Square/Suffolk
(7) Chesapeake Greenbrier
(8)Virginia Beach Oceanfront Area
High Intensity Inteval Training Gyms
Crossfit Little Creek
Fit36 Norfolk
Gyms with Childcare and additional amenities:
(9) Va Beach - Mount Trashmore
(10) Va Beach - Hilltop Shopping Center
(11) Va Beach - Indian River Rd
(12) Norfolk - Downtown
(13) Chesapeake - Greenbrier North/ Greenbrier
(14) Chesapeake - GreatBridge/Hickory
(15) Chesapeake - Taylor Bend Rd
(16) Portsmouth - Effingham Street
(17) Suffolk
Gyms with lower membership fees:
24 hour fitness
Anytime Fitness
Planet Fitness
Read Military Friendly Business reviews for Norfolk and Virginia Beach!