If you are ready to be immersed in local culture, nothing beats the experience you will have at Angie's Subs in Jacksonville Beach, Florida. My first experience with Angie's Subs was a takeout lunch at a fellow Navy spouse's house. Several of us had deployed husbands and only one of these spouses had children so her house was a natural gathering spot for us. One day we were at her house and it was lunch time. She suggested that we order take out from Angie's Subs. My friend was known for having the gouge on the most delicious foods in the area so I told her to order me the same thing that she ordered. She ordered, drumroll please...The Veggie Tuna Sub. It was an 8 inch tuna melt sub sandwich with sauteed veggies covered in melted cheese on a crusty homemade roll. It was heavenly! The Veggie Tuna Sub is my all-time favorite sub ever!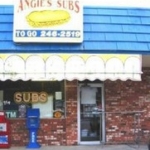 My next experience with Angie's Subs was a little different. This time we ate inside the restaurant. I was immediately submerged into a cultural beach restaurant with even its own spin on "beach culture." I believe the only main rules at Angie's Subs are that you do need to wear at least flip flops and some type of bottoms over your bathing suit. Yet with as casual as this sounds, and it is casual, you will still find people in business suits eating there too. The walls are covered in pictures, fishing trophies, fish pictures, and a random sign with a sock stapled to it that reads "Whose sock is this?" None of the tables match and none of the chairs match. Please pronounce your name clearly when you place your order because they will be yelling out your name when your delicious subs are ready. Sweet tea and unsweetened tea are made in 30+ gallon vats. I've found the best iced tea is a 50/50 mix of sweet tea and unsweetened tea. Angie's is famous for their Peruvian Sauce. Customers slather their subs in it. You can purchase bottles of it to take home because you will become addicted to it.
I cannot begin to imagine the amount of calories I consume when I'm at Angie's. I would compare it to eating a full MRE myself. It's hard to resist the additional treats like Angie's homemade brownies or freshly baked banana bread and muffins. Oh and that tasty iced tea is served in very large cups.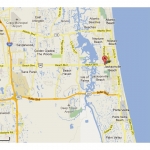 Brush up on your trivia because if you can answer the daily trivia question correctly you get a free iced tea. In all of my trips to Angie's I only answered that trivia question correctly once. The symbol for silver on the periodic table is Ag. Yes I knew this. The rest of those iced teas I had to pay for.
Eat a Veggie Tuna for me!
Still hungry? Try St. John's Town Center and Al's Pizza.
Additional Resources:
Search for more Jacksonville information. Neighborhoods, local businesses, things to do, and more!