One of my favorite things to do when we were stationed at Naval Station Mayport was to enjoy a family pizza night at Al's Pizza and then some fun beach time afterwards!
Al's Pizza Locations
Al's Pizza has several locations in Jacksonville area, but none of them are as iconic and amazing as 303 Atlantic Boulevard, Atlantic Beach, FL! Why? Where else can you eat the most delicious pizza in beachy diner style atmosphere just yards from the beach and the Atlantic Ocean?! If you like New York style pizza you will love Al's Pizza. Every pizza is delicious; however, if you really want to indulge in something truly fantastic try their bacon pizza. The salty crisp bacon mixed with the mellow motzerella cheese is divine! Al's has three distinct eating areas. You can dine in the retro diner looking side, sit in the calm blues beachy side, or even sit at a few outdoor metal bistro tables and people watch while you enjoy your meal.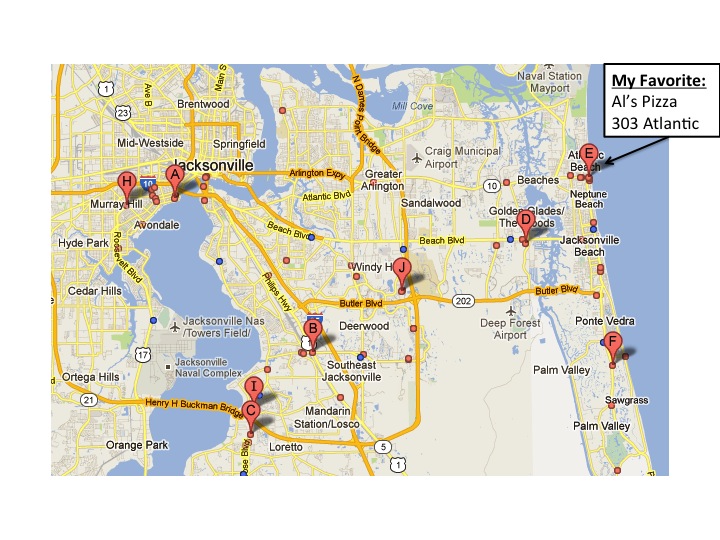 When you have filled yourself with Al's amazing pizza, step outside the restaurant, turn left and walk a few hundred yards right onto the sandy shore of the Atlantic Ocean. Let your kids run off some energy while you enjoy an easy beach time without all the hassle of dragging all of your "beach stuff" with you. Simply walk down the beach or take a seat on the sand while the kids run around. After dinner this beach is usually quiet and not crowded which makes it a lovely time to relax after a satisfying meal.
Al's Pizza followed by some family playtime on the beach was one of my #1 things to do with our family!
PS. If you are stationed at Naval Air Station Jacksonville it is still worth the drive to Atlantic Beach to enjoy an even at Al's & the Atlantic.
Still Hungry? Check out St. John's Town Center and Angie's Sub.