Have you just received orders and are now faced with the "big" question of "Where do we live?"
If you are headed to Naval Station Mayport, Florida and house hunting, here are some great bits of information for you.
We have done two tours at NS Mayport with the helicopter community there and also detached on three different ships out of Mayport. We lived there for a total of seven years and owned two houses. I finished my last two years of college at The University of North Florida and I taught first grade in Duval County Public Schools. I have a lot of experience living in the Jacksonville/Mayport area.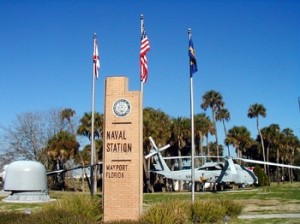 When wondering where to live near NS Mayport, the best news is that you can live in a great neighborhood, with great schools, and still have a great commute to NS Mayport. A "great" commute to NS Mayport is anything under 15 minutes. This can be done! Jacksonville/Mayport have really improved their roadways since we first moved there. Commuting now is easy!
When I move to a new area I want to live in an active community. I am looking for a neighborhood with a community pool and playground, there are lots of neighborhoods with these amenities and some even have more with tennis courts, walking trails, basketball courts, etc... I want to be able to know my neighbors so my children have neighborhood friends to play with and I know I have people I can count on when my husband deploys. This can all be found if you are stationed at NS Mayport.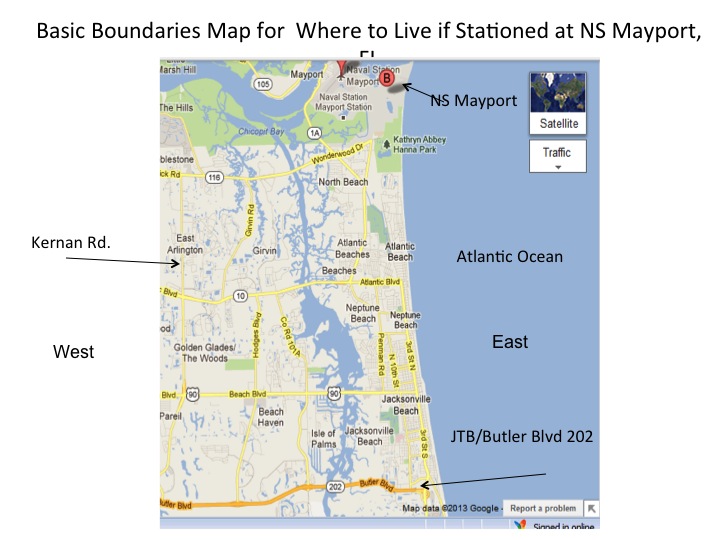 Basic Boundaries: If you look at the map you will see that NS Mayport is located in the Northeast corner of Mayport/Jacksonville. It is tucked in the corner of the St. John's River and the Atlantic Ocean, a perfect location for a military base full of ships! Use the Atlantic Ocean as your border to the East, use Kernan Road as the border to the West, use the St. John's River for the North border, and JTB (Butler Blvd)/202 as the Southern border. Draw these lines on a map and you have the basic boundaries in which to live when you are stationed at NS Mayport. All of these will get you in good elementary schools and middle schools. In another blog post I will talk more about all schools in this area including high schools.
You will want to stay North of JTB/202. Either side of Kernan Road is great, do not go farther West than Kernan Road. The areas West of Kernan Road start to feed into elementary and middle schools that are not so highly rated.
If you follow these basic boundaries your commute to NS Mayport should be around 15 minutes or less. The farther North and East you are within these borders the commute will be around 10 minutes. This also allows you to have easy access to the off-base Mayport Commissary and Navy Exchange. The Commissary and Navy Exchange are located off of Mayport Road about a mile from NS Mayport.
Within these basic boundaries you will be able to find neighborhoods with all the above mentioned community amenities in either developments that are less than 5 years old or in developments that have been established longer with mature trees. There are even some lovely condo and townhouse options available as well.
Where to live near NS Mayport
Read related articles by Jill:
Tell us, what neighborhoods or 'areas of town' do you recommend near NS Mayport?