I don't know about you, but I am always looking for the best salads in a new town. Now I'm not talking about a wimpy side salad, I want a big salad with lots of toppings aka 'goodies'. As I was gathering research for this post, there was one place I knew I had to go try.
Best Salads in Hampton Roads!
So let me introduce you to #1 Best Salad on my list: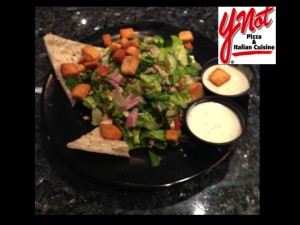 #1 Ynot Pizzerias Ynot ChopThis is a new generation salad bar and I hope other places will adopt their innovative method. This salad bar comes with a paper menu and a pencil! You choose the ingredients, and they will toss and chop the salad for you! This is genius, the ingredients are fresh, the salad is tossed, and you don't have to worry about yucky germs on the all-you-can-eat salad bar. Oh and did I mention it's huge!!!! The salad starts at $5.95 with a few free toppings but if you get creative, it will cost you, but so worth it. Give it a try, they have locations in Norfolk on Colley Ave, Virginia Beach off Great Neck Rd, and Chesapeake at Greenbrier Mall Area.

#2 Nordstrom's Cafe at McArthur Mall in Norfolk
#3 No Frill Grill in Virginia Beach and Norfolk on Colley Ave
#4 Cheesecake Factory at Virginia Beach Town Center
#5 Shorebreak in Virginia Beach on Shore Drive
#6 California Pizza Kitchen at Virginia Beach Town Center
#7 Bakers Crust in Virginia Beach Hilltop, Norfolk 21st Street, and Chesapeake Greenbrier
#8 Red Robin multiple locations throughout Hampton Roads
Best Salad Bars
#9 Jason's Deli at Pembroke Mall in Virginia Beach
#10 Ruby Tuesday multiple locations throughout Hampton Roads
others suggested Gordon Biersch's salmon salad,

Red Star Tavern's

salmon salad, and

Tripps

Greens and Grille or Ceasar salad, Panera Bread,

Orapax

Greek Salad, Chipotle Burrito in a bowl, Farm Fresh Grocery Store Salad Bars
Healthy Tip: To make a salad healthy, order the dressing on the side. Don't just pour the side dressing onto the salad (that defeats the purpose), either dip your fork in it for each bite or pour a little bit and mix it, then pour more. Choose oil based dressing, like vinaigrettes over creamy fattier dressings. If you love creamy dressing like ranch, here's my trick, ask for a side order of fat-free ranch and a side order of regular full-fat ranch. Mix 80% fat-free ranch and 20% full-fat ranch, this way it won't taste like yucky fat-free ranch but it will have half the calories! YUM! Enjoy!
Find More Things To Do in Norfolk & Virginia Beach!
Any suggestions to add to the list?