Let me first begin by introducing myself. My name is Ericka, I am a Navy wife and mom to 4. We currently live in San Diego. #4 arrived in September, so we have been out a little with all 4 kids. Please feel free to check out my blog.
Let me share a few of my favorite things to do and kid friendly in San Diego!
Balboa Park is at the top of my list of favorite places. I can even handle all 4 of my children on my own there! I have 3 boys so our favorite place is the Model Train Museum. But the Botanical Garden and just walking around is a lot of fun, too. Of course, don't miss out on the miniature train! My boys could spend all day on it!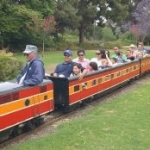 Another place not to miss is the San Diego Zoo. My kids were so thrilled to spend the day looking at reptiles and animals. Go early, we got there around 9am when it was opening and avoided lines and crowds. By about 1pm they were tired and wanted to go home. It is very stroller friendly, and there is stroller parking if you want to take a bus tour or jump on the sky tram.
We also visit Liberty Station frequently. There are lots of paths, grass and a fabulous playground. My kids are happy just to run all over the grassy area. At any given day you will see numerous fitness classes going on. My favorite is Stroller Strides. I am currently trying to get back into shape while pushing my boys in their stroller! It's a win-win!
If you or your kids like the beach, I highly recommend Mission Bay Beaches. It is shallow, there is a playground on the beach and there are restrooms! Very important if you have a potty trained child! We usually go on Sundays, early to avoid the crowds and pack a lunch!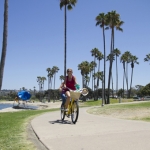 My favorite and kid friendly place for Sunday brunch is the Bali Hai Restaurant on Shelter Island. They offer kids under five eat free and their Sunday brunch has bottomless champagne for the grown ups! Another win-win!
We have spent the week taking day trips north and east. We went up to LA and Hollywood and over to the Salton Sea and Julian. While I found these places to be interesting, my kids were not as impressed. We are hoping to get out to the Safari Park in Escondido one day and continue to explore what the city has to offer us!
Click to find more fun things to do in San Diego.
What are your favorite places to go with kids in San Diego?