Hampton Roads traffic is something you have to pay attention to, especially if it involves a tunnel.
The most important thing to know about Hampton Roads traffic is how to avoid tunnel traffic. There are 4 tunnels that back up everyday during rush hours and it's helpful to know where to live to be able to avoid this mess.
On the map below, I have included all the bases and tunnels. It's important to note that Norfolk Naval Station is at the Northwest Tip of Hampton Roads, so many people have to use the tunnel system to get to work. If you want to avoid using a tunnel, I suggest living in the City of Norfolk, Virginia Beach, or S. Chesapeake (called Greenbrier Area, Great Bridge Area and Deep Creek Area).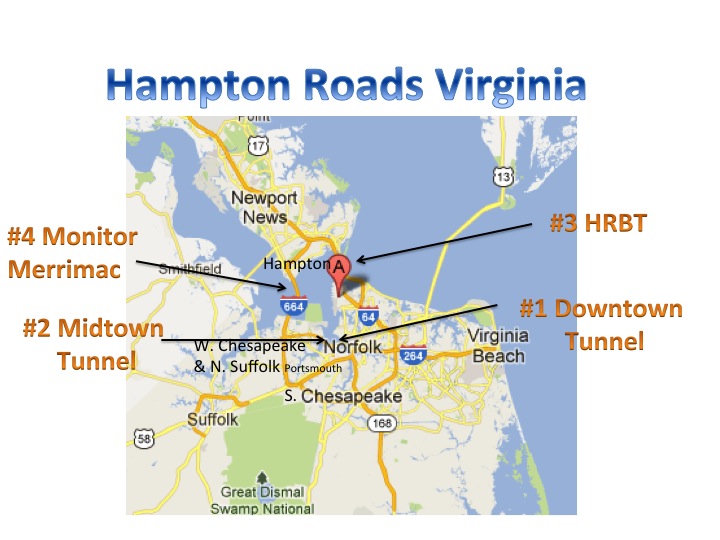 #1 Downtown Tunnel Short, but can back up for hours. The tunnel goes through Downtown Norfolk, and connects West Chesapeake (called Western Branch), Suffolk, and Portsmouth to Norfolk.
Traffic Backup: Usually both directions at rush hours.
#2 Midtown Tunnel Connects West Chesapeake (called Western Branch), Suffolk, and Portsmouth to Norfolk at a mid-town location. Beware, this route does not connect you to a highway once entering Norfolk. For example, if you live in North Suffolk and travel to Norfolk Naval Station (NOB), you will have to cross the Mid Town Tunnel and upon entering the City of Norfolk, you will creep along a road with lights.
Traffic Backup:
6am-8am: Eastbound
4pm-6pm: Westbound
-
South Hampton Roads (Norfolk, Virginia Beach, Chesapeake, Portsmouth, and Suffolk) connect to the Peninsula (Cities of Hampton, Newport News, Yorktown and Williamsburg) via these tunnels.
#3 Hampton Roads Bridge Tunnel (HRBT)- The worst traffic in Hampton Roads. This tunnel is along I-64 and is the most common way to cross the water. When there isn't traffic, it moves pretty fast, however you will most likely have to slow before entering the tunnel because people have an urge to hit their brakes.
Traffic Backup:
Expect an 1-1.5 hour commute during the morning and evening. It's normal for the tunnel to have at least a 5 mile backup, if not more.
6am-8am: Southbound (from the Peninsula to Norfolk) Houses are less expensive on the peninsula, so many commuters use this route.
4pm-6pm: Northbound (from Norfolk to the Peninsula)
Note: If you travel against this traffic (morning: northbound, afternoon: southbound) it may take you 20-30 minutes. It's almost comical to go against the traffic because you feel so sorry for these commuters.
#4 Monitor Merrimac Memorial Bridge Tunnel The Monitor Merrimac is less traveled because it isn't in the best location for military commuters. See map. If you live on the Peninsula and travel to Norfolk Naval Base, you would have to go through the Monitor Merrimac tunnel and the Downtown/Mid Town Tunnel, so it's not really worth using this tunnel for military commuters.
Traffic Backup: This tunnel traffic is not as bad unless there is an accident.
-
Below are Traffic Maps taken at 4:30pm on a Friday. Note the different colors on the roadways to indicate traffic.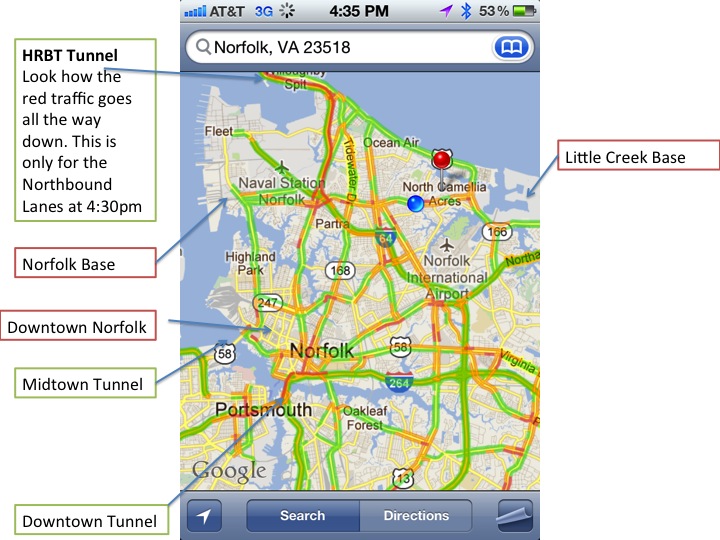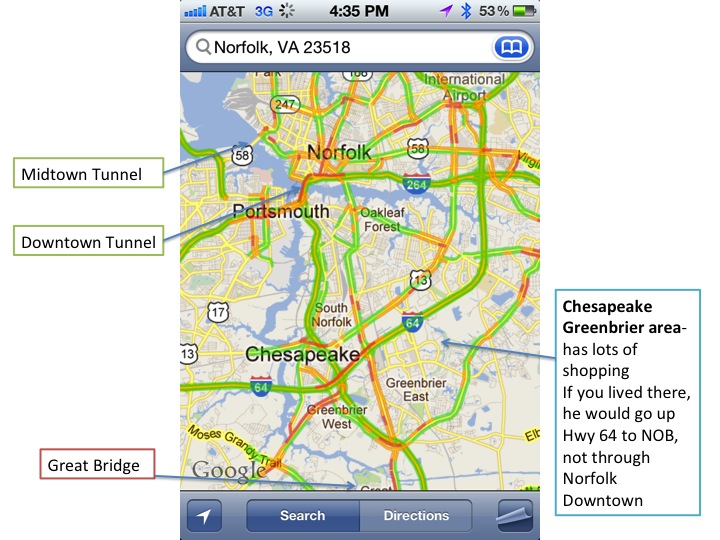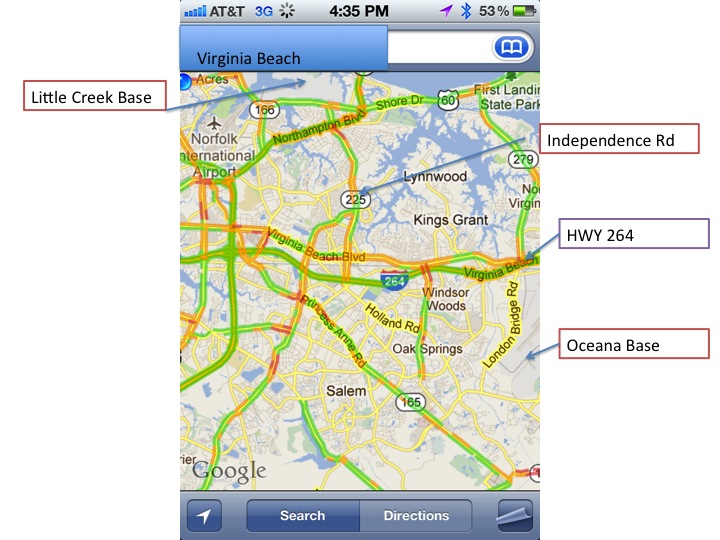 PCSing to Hampton Roads, read over 100 neighborhood reviews, find things to do, and lots more.
Leave a comment below, do you have any commuting secrets for Hampton Roads?