Having fun in San Diego doesn't have to require a lot of money. With miles of beaches and perfect weather, there are plenty of free activities to do with kids in San Diego. Here are 8 free activities in San Diego that you might not have thought of.
Yellow Book Road
I found a fabulous children's bookstore in Liberty Station (Point Loma) on Historic Decatur. Yellow Book Road is a cute little store offering tons of children's to young adult books, toys and homeschool materials. I attended baby story time one Friday morning with my three sons (they are 3, 2 and 5 months). There was singing, dancing, socializing and reading!
Story time schedule:
Preschool: Tuesdays at 10:30am
Baby: Fridays at 9:30am
Toddler: Fridays at 10:15

Balboa Park - Residents Free Tuesdays
San Diego Residents Free Tuesdays at Balboa Park offers county residents and Active Duty Military and their dependents free admission to Balboa Park museums.
Monthly Rotating Free Admission Schedule:
First Tuesday: Reuben H. Fleet Science Center, Centro Cultural de la Raz, San Diego Model Railroad Museum, San Diego Natural History Museum (Not valid for 3-D films)
Second Tuesday: Museum of Photographic Arts, San Diego History Center, Veterans Museum and Memorial Center.
Third Tuesday: San Diego Art Institute, Mingei International Museum, San Diego Museum of Art, San Diego Museum of Man, Japanese Friendship Garden
Fourth Tuesday: San Diego Air & Space Museum (Not valid for special exhibitions), San Diego Automotive Museum (Last admission 3:45pm), San Diego Hall of Champions, SELECT House of Pacific Relations International Cottages.
Home Depot
Saturday mornings are always a good time to get out with the kids! Home Depot offers a kids workshop on the first Saturday of the month from 9am-12pm for kids ages 5-12! They get to keep their craft, apron and get a certificate, plus they learn valuable tool safety tips.
Lakeshore Learning
Lakeshore Learning in Hazard Center has free crafts on Saturday mornings from 11am-3pm. Click to find a Lakeshore Learning center near you.
Barnes & Noble
Offering a variety of events and story times throughout the week, visit Barnes & Noble's event search to find activities near you.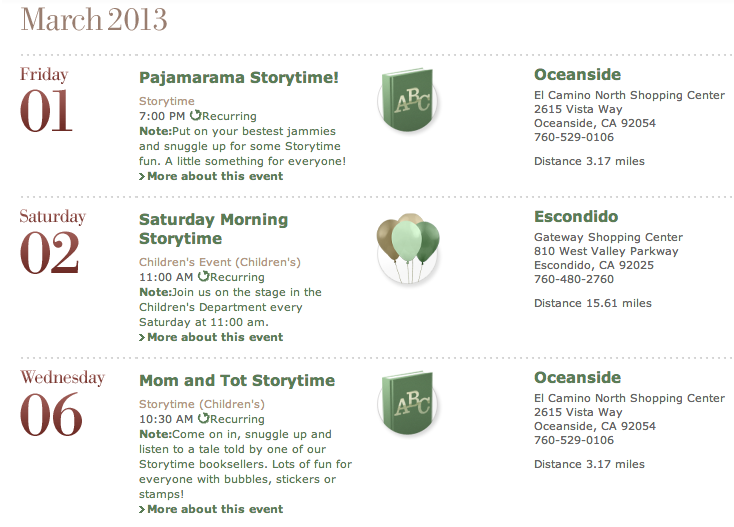 The New Children's Museum
The New Children's Museum in Downtown San Diego offeres free admission on the second Sunday of each month, sponsored by Target. The Museum is not new, but there are always new exhibits so it has a new feel each time you visit. TRASH is the feature exhibition and focuses on the invisible issue that increasingly dominates our lives.
The LEGO Store
The Lego Store in Fashion Valley offers a Monthly Model Build for children ages 6-14. They will learn how to build a LEGO model and be able to take it home to show off to their friends! Quantities are limited to the first 250 customers.
Â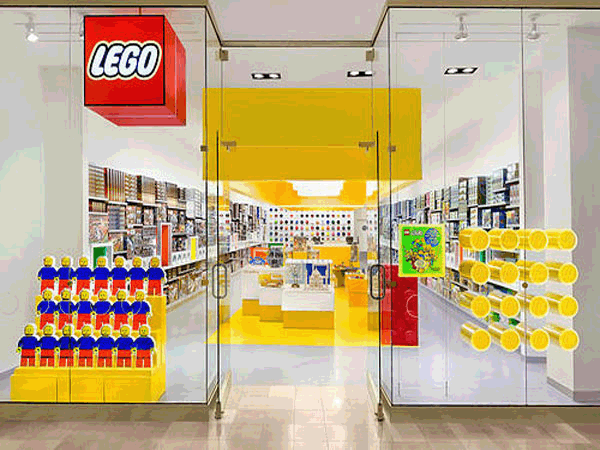 Libraries
There is a library in every community and it's a great place to read books, take classes and meet your neighbors!
The La Jolla Library has a lot to offer:
Preschool Story Time: Thursdays at 10:30
Chess Club: Saturdays 12:30-2:30
Family Flicks: Fridays at 3:30
Baby & Me Yoga: Fridays at 10:30
Kids Book Club (grades 1-3): 2nd Wednesday of each month at 4 p.m.
Baby Signing Time: 2nd Thursday of each month at 9:45 a.m.
Reading to HoneyBear: Tuesdays at 4
Pajama Story Time: Wednesdays at 6:30 p.m.
Story Time: Thursdays at 10:30
Arts & Crafts: Thursdays at 11:30
What free activities with kids do you like to do in San Diego?
Click for more things to do in San Diego
Click for neighborhood & school reviews in California