After living in Virginia Beach, VA for a while now, I have finally found the most amazing fresh fish tacos.
Gringos is a-hole-in-the-wall taqueria that knows how to make mouth watering Fish Tacos. They serve Baja-Style tacos, a term referring to California, which places an emphasis on fresh ingredients. This is not your greasy Tex-Mex, but more of a Fresh Mex style of Mexican Food. This tiny restaurant only has 6 tables and is about the size of a bedroom, however they have proven you can increase quality of ingredients by serving fewer guests. I found this place a few years ago and was amazed they did not own a freezer. Everything was fresh, from homemade sour cream to fresh made guacamole. They even fry their own chips and serve them hot at the table.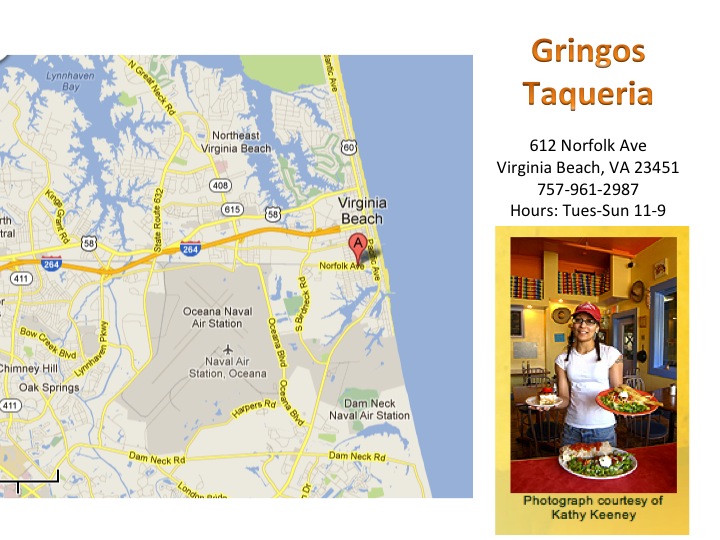 A few of my favorite items
First....Always check the board for fresh items
Second....Check out these great items on the menu
Shrimp Taco
$6.00 ea. Add R&B or small salad..$9.00/Burrito..$15.50
Spicy Grilled Shrimp, Sour Cream & Romaine with Citrus Vinaigrette or Pineapple Salsa
Tuna Mushroom Burrito
$16.50/Taco..$6.50 ea.
Grilled with Lime & Sea Salt with Black Bean Rice, Pico de Gallo and Sour Cream
Orange Chipolte Chicken Taco
$5.25 ea. Add R&B or small salad..$8.25
Marinated Chicken Breast, Sour Cream & Romaine, Citrus Vinaigrette or Pineapple Salsa.Orange
Bowl of Pulled Pork or Chicken
$8.75
Rice, Beans and Corn Quesadilla. Substitutions ask server for price.
Jean Marie's Salad
$12.50
Romaine topped with Rice, Beans, Cheese, Chicken or Pork and your choice of dressing plus your choice of Sour Cream or Yogurt.
Also, don't forget the Enchiladas Verde or Rojo and Carne Asada Tacos and Shrimp Queso!
This place is fresh and everything tastes so good! If you have PCSed from California, then you better get to Gringros quickly for their outstanding Baja Style Food.
Gringos Taqueria is located on Norfolk Ave near the Virginia Beach Oceanfront between Mediterranean Ave and Cypress Ave. Nearby neighborhoods include Salt Marsh Point, Shadowlawn, and Old Beach.
Find more fun information surounding Norfolk and Virginia Beach. Find popular local neighborhoods, find things to do, and find other great local hot spots.
LEAVE A REVIEW HERE
What's your favorite Mexican Restaurant in Hampton Roads?