My husband was very excited the other day when a buddy of his told him about Marines' Memorial Association membership. As a military family, planning a trip is always difficult. Trips are usually booked last minute with my husband's Navy schedule and we are always searching for something within our budget.
Marines' Memorial Association
The Marines' Memorial Association is a club open to all Veterans who honorably served in any branch of the U.S. Armed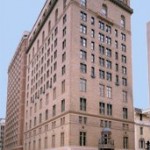 Forces as well as current members of the U. S. Military forces. The Marines' Memorial Association offers a variety of Veterans travel benefits, including access to reciprocal clubs, discounted rates at our hotel, a subscription to Crossroads of the Corps and more.
Benefits of the Marines' Memorial Association
The benefits of military club membership include Reciprocal Club privileges at over 190 private clubs across the world, participation in Club-sponsored events, participation in the Marines Memorial Association Scholarship Program, and much more. In addition, Club members and their guests receive preferred access and exclusive rates on lodging at the Marines' Memorial Club & Hotel as well as full access to the hotel's amenities. Read more benefit details.
The Hotel
It's a Marine membership but not really....because it's for ALL BRANCHES active service members or Veterans. It's a hotel in San Francisco called the Marine Memorial Hotel located right in the middle of Union Square. You can't find a better location for this great price. Marines' Memorial Hotel Address 609 Sutter St 2nd Floor, San Francisco, CA, (415) 673-6672.
The Leatherneck Steakhouse and Flying Leatherneck Lounge serves breakfast and cocktails daily, lunch Monday through Friday, and dinner Tuesday through Saturday. If you want a great steak along with breathtaking views of San Francisco, make sure to make reservations.
If you are traveling to other cities, the Membership allows you to use their reciprical clubs. Basically, they have agreements with other hotels all over the world and you can get really cheap hotel rates in really nice swanky hotels. It sounds so cool!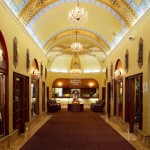 What does the Marines' Memorial Association support?
The Marines' Memorial Scholarship is available to active members of the Marines Memorial Association as well as dependents and grandchildren of an active member. Marines scholarships are offered in different categories, ranging from awards for those pursuing degrees in the health care field to those pursuing degrees in Engineering or Math.
Join the Marines' Memorial Association
The Marines' Memorial is a non-profit Veterans organization. The great hotel rates they offer to the men and women currently serving in the US Armed Forces are only possible because of donations. Donations (including membership payments) are completely tax-deductible. Please consider giving a donation to this great organization.
To join, visit their membership page on their website. Remember this membership is for Veterans or Active Duty Service Members for any branch of the US Military. For more information about membership, tax-deductible donations, and the mission of the Marines Memorial Association, contact us at (415) 673-6672.
TIP: We called about booking the hotel in San Francisco and rooms were about $150 a night, but the nice lady on the phone asked my husband if he was active duty. He said, "Yes, I am active duty." She replied, "Call back 14 days before your trip and if they have available rooms, they will give it to you for $75 a night." Cool! It's a risk, but worth it! Â It worked, our room for our trip is going to be $75 a night in the heart of San Francisco! AWESOME!