What family doesn't love a good military discount?
In 2001, Terrance Thomas, a Navy Veteran felt the same way when he co-founded the Military and Veterans Discount Center (MVDC). His vision was to create a place where military families, active or veteran, could find great military discounts. After having a bad experience and hassling with AT&T over their advertised discount, he felt it was necessary to help other military families learn about offered discounts and have documentation to receive the discounts.
Military and Veterans Discount Center (MVDC) has the largest collection of military and veteran discounts on the web. They have accurate and current information on local military and veterans discounts and if you find a discount they don't have, it's easy to add it to the database.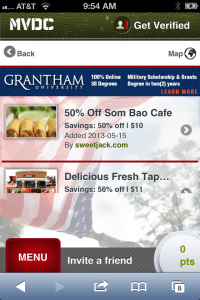 They have a new mobile friendly website: http://militaryandveteransdiscounts.com/m/ so that military personnel, dependents and veterans can have discounts on their phone anywhere and everywhere they go. The site is jam packed with features that enable you to enjoy the hidden benefits of service you've earned.
Nearby military discounts
Free military discounts
Daily deals
Save discounts for future use
Like or dislike discounts.
Memorial Day Discounts: Check out their list of Memorial Day discounts exclusively for military. So far, they have 151 businesses at over 20,000 locations.
"In an effort to express our gratitude, MVDC is doing a 10 for 10.Recommend 10 friends, get 10 bucks. For every 10 friends that you recommend that become free members of MVDC, MVDC will give you $10.00. Membership is free. Thanks for your support!" Alissa from MVDC.
At Military Town Advisor we are all about military families helping military families, so spread the word about the the mobile website and MVDC!