With temperatures, heat index and frizzy hair rising, Ocean Breeze Waterpark is a great family friendly activity on a hot day in Virginia Beach. It's a medium-sized waterpark a couple of miles away from the Oceanfront, and within a mile from the Virginia Beach Aquarium.
Often, waterparks are not toddler-friendly, but with the new addition of Buccaneer Bay, little pirates will have a blast at the waterpark. From little sprayers, a slide and tipping bucket, kids can climb to the top and slide down.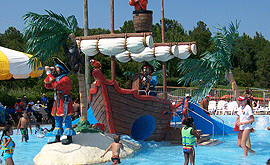 Buccaneer Bay
Rides and Attractions - Water slides: Sea Serpent, Earth Shaker, Neptune's Revenge, Paradise Pipeline, Runaway Bay Wave Pool, Hurricane, Coconut Drops and Bamboo Shoots, Jungle Falls, Largo Loop, Pirates Plummet and Walk the Plank, Adventure River
Children's Area - Hooks Lagoon, Buccaneer Bay, South Seas Silly Slides, Little Amazon Lazy River
Don't worry about packing a lunch. From Paradise Pizza and a DIY slush factory, there are plenty of dining options.
If you go to Ocean Breeze Waterpark in Virginia Beach, you will are sure to a fun filled day full of fun in the sun!
Relax on Adventure River as it takes you through waterfalls, rollicking waves and under playful tipping buckets. This is a 10 minute break even the kids will enjoy.
Additional resources for the area:
Find more off base information for Norfolk
Find more off base information for Virginia Beach