Whether it's too hot and humid or we just need a change of scenery, the Children's Museum of Virginia in Portsmouth is a fun place to go. With two, newly renovated floors of activities for children, all ages will enjoy the hands-on museum.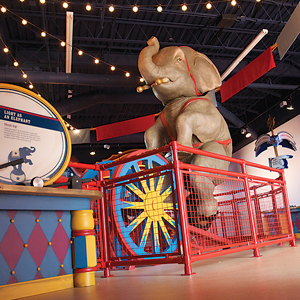 Children's museums are not your typical museums.
If your tot loves choo choo trains, don't turn right as soon as you walk into the museum, or else you won't see the rest of the museum. Trust me. We were stuck in the train room forever. My advice? Turn right and head into the bubble room.
Sounds Around: Enter a soon-to-be-open music store. Learn about the four families of musical instruments. Enjoy playing instruments made from unusual and found materials such as trash cans lids, hubcaps, wrenches and more.The Bubble Room is full of tools to make bubbles of all shapes and sizes, you can even put yourself in a bubble. Seriously.
Remember when we played grocery store as children? This is way better than the store we pretended to have. Enter into the faux grocery store and shop for everything on your list and let a cute little tot check you out when you're finished. Have fun shopping or take the opportunity to teach your little one about the store, fruits, and veggies.
Come explore energy and physical sciences through the lens of a fairground/carnival sideshow. At Dr. Forces Traveling Energy Extravaganza, concepts include magnetism, electrical energy, waves, fluid dynamics, and simple and compound machines.
After a full day at the Children's Museum, we usually go across the street to Roger Browns Restaurant & Sports Bar for lunch. Olde Town Portsmouth is really cute and there are a lot of places to eat nearby.
We recommend the $80 annual membership that includes 4 people.
Click here for more fun things to do in the Hampton Roads, Virginia area