Our family was lucky enough to fly Space A to Germany for a week! We found breathtaking views surrounding Edelweiss!
Edelweiss Lodge and Resort is an Army MWR, a military resort for you and your family to enjoy! We have found it to be a great base camp for us. Here are a few things I learned while traveling to Edelweiss.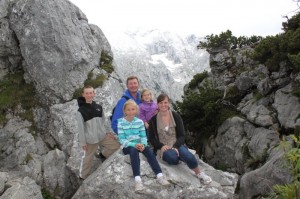 What to Do on Your Vacation at Edelweiss Lodge and Resort
2 Ways to Travel While Staying at Edelweiss:
1. Sign up for guided tours through The Alpine Shop at Edelweiss
-Includes transportation to and from the sites.
2. Rent a car and Drive yourself
-Make sure you rent a GPS/TomTom with your rental car. Edelweiss has GPS addresses for all of the sites and tours you could want in the surrounding area and several hours away.
-Less expensive of the two options if you plan on doing a lot of sightseeing and adventuring.
TIP: If you are renting a car make sure you have a toll sticker that is current if you plan on driving from Germany into Austria. This may also be true for other countries. We ended up with a 120 Euro fine for not knowing this :( !
Available Excursions in Germany, Austria, Switzerland, and Northern Italy from Edelweiss:
Hitler's Eagle's Nest

*

Munich City with the Hofbrauhaus and Glockenspiel

*

Dachau Concentration Camp

*

Neushwanstein Castle (Disney World Castle is modeled off of this castle.)

*

Innsbruck, Austria & Swarvoski Crystal Factory and Museum

*

Garmisch 1936 Olympic Stadium: Rotobaun (ride luge like cars on a track) & Hike/Walk the Partnach Gorge

*

Take a horse drawn carriage ride through Garmisch
Head South to Bolzano & Vipiteno, Italy
Linderfof Palace
Bavarian Brotzeit & Ettal Cheese Factory
Griesbrau Brewery
Venture to the Highest Peak in Germany The Zugspitze
Munich Zoo
Outdoor Adventures: paragliding, rafting, ropes course, boating, etc
Just for Kids - kids can be entertained at the resort while parents go out and enjoy Germany!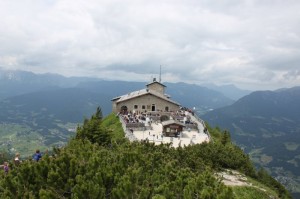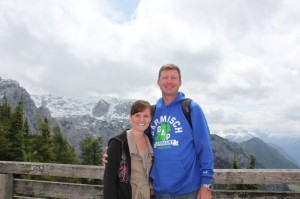 My husband and I at Hitler's Eagle Nest
My family had two favorite excursions Hitler's Eagle's Nest and the Saltzburg Salt Mines. Hitler's Eagle's Nest is full of awe and wonder. To ride in the same elevator as Hitler and to look at the building where decisions were made that changed so many lives. It was also inspiring to stand at the top of the mountain and look down and know our American troops climbed those 6,017 feet in pursuit of Hitler and he ended his life and his reign of terror in fear of the Americans headed his way. Our children loved climbing to the very peak of this mountain. The views and experience were amazing!
As a family we loved the Saltzburg Salt Mines. It was interesting and incredibly fun for the kids. We dressed as miners, rode 2 miners trains, slid down slides to go to lower levels in the mines, rode a boat across an underground salt lake, and got to collect salt! The kids absolutely loved it!
Excursions To Do on Your Own Time (Edelweiss Does Not Provide Transportation)
Salt Mines in Salzburg (Can be done the same day as The Eagle's Nest)

*

Sound of Music Tour (We ran out of time or we would have done this!)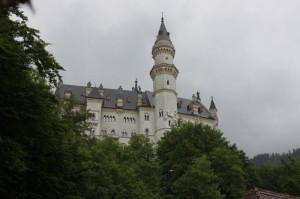 Neushwanstein Castle Tour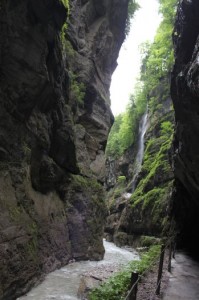 Partnach Gorge Tour
*These are the activities my husband, our 3 children ages 10, 8, and 5, and I have done and loved them!*
All tours can be found on Edelweiss printable tour PDF.
There are fantastic brochures at the resort as well.
Ask questions at Edelweiss! The Staff is extremely knowledgeable.