I've enjoyed sharing my family's favorite indoor and outdoor activities around Pensacola,but now I'd like to share my family's favorite restaurants in Pensacola.
My Family's Favorite Restaurants in Pensacola are:
1. Bagelheads: yummy sandwiches and bagels
2. Atlas Oyster House: 1/2 price sushi on Tuesday nights! Fun place for a girls' night out.
3. Fish House: you have to try the Grits A Ya-Ya!
4. LuLu's: located in Gulf Shores, AL it is owned by Jimmy Buffet's sister. A little pricy but a great place to take kids! Wonderful atmosphere - a huge area of sand with buckets and shovels, a high ropes set for older kids to experience, as well as a huge outdoor bar and souvenir shop
5. The Gulf: just opened right on the beach in Orange Beach. This place is all about atmosphere. Their menu changes daily, and everything we have ever had has been great! The restaurant is made from two old shipping containers. You go up to the window to order and can eat at a picnic table on the beach or lounge on one of the couches they have set up in the sand. Very fun and the kids can run around while you eat.
6. McGuires: just go there. You won't regret it.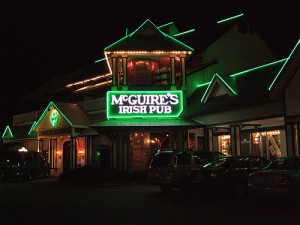 There it is! Those are my family's favorite restaurants in Pensacola! Enjoy!
To find more fun things to do, read our on and off base review for NAS Pensacola!