When we lived in Monterey, we ate a lot, often. I think this is where I found the majority of the 15 pounds I brought to Northern Virginia (NOVA). Even with all of the extra gym time the weight loss required, sampling as much of California's central coast's culinary scene was an integral part of our stay there. Although there were plenty of high end, trend setting and expensive places in our area, we had a kid and needed better than average food served with a side of crayons on the menu. Happily these two local institutions fit the bill and we were repeat customers.
The Best Family Friendly Restaurants in Monterey, California
Gianni's Pizza
Of all our Army travels and the pizza tasting that has ensued, Gianni's Pizza on Lighthouse has taken the coveted positon of best pizza in our family's humble opinion. It was convenient for us to walk the half mile down the giant hill on David Avenue and feel a little superior to the rest of the diners because we burned a few calories on the way in. However, it really didn't matter because we made the most of the chance to sit down and indulge in the enormous and perfectly seasoned breadsticks and marinara Gianni's offers as an option for an appetizer.
My daughter and I are traditionalists and ordered pepperoni or plain cheese pizza every time and were totally content. My husband on the other hand was more adventurous with his basil and Italian sausage concoction. All of it just works. The cheese to sauce ratio is perfect. Grease quotient is spot on. The crust is not too thick or thin. We also have firsthand knowledge from a gluten free friend that the GF crust is very good as well. All served atop red and white checkered tablecloths in a rustic Italian garden atmosphere. By the way, the walk home up the hill with bellies full of pizza wasn't so fun or health conscious.
Here are points of concern to navigate: It's crowded, most of the time, and the parking is not so good. Weekend nights you need at least two of you two make the operation successful. One person gets in line to order and the other stalks other diners to make sure their table is scooped up as soon as they look like they are even close to departing. Also, it's hot in there, even on cooler days. Remember most homes and businesses in Monterey and Pacific Grove do not have AC and my best guess is that Gianni's doesn't either, or it's definitely not adequate enough to compete with a full house and pizza ovens.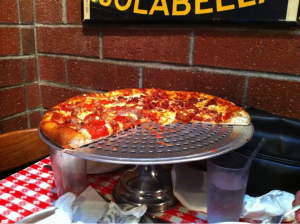 Rosine's Restuarant
Rosine's Restaurant on Alvarado Street quickly became a go-to for us because of the quaint family atmosphere, the menu filled with traditional favorites and a delectable bakery counter that was heavily stocked with cake, pies and cookies baked on site. We chose to spend a Christmas Eve dinner there and it was filled with a festive vibe that was made even more delightful by kind servers who made the evening memorable. We also returned for birthday celebrations complete with the largest cake slice you can set your eyes on. I can personally recommend the carrot cake, it was so moist and was brick like in weight. Perfect as leftover breakfast the next day with coffee.
Although we spent holidays at Rosine's it's not necessarily a special occasion place exclusively. We also popped in right after swim glass for a hearty meal. They offer breakfast, which sad to say, we never tried, lunch and dinner. I am particularly proud of the fact that we recognized and loved Rosine's for their lasagna, minestrone and desserts before Guy Fieri showed up to film a feature for Diners, Drive-Ins and Dives last year. However, it was nice to have a celebrity chef echo my gastronomic choices. Again street side parking is tight, so expect to do a lap or two to find a small space to show off your lack of parallel parking skills. Or is that just me?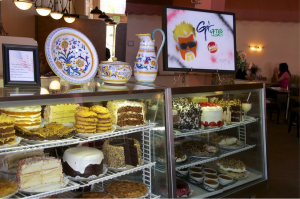 Find more things to do, read on and off base information near Monterey NPS!