Halloween Trick or Treat at Hersheypark
What is better than trick or treating at Chocolate World, Hersheypark? Pretty much nothing except for celebrating Christmas with Hershey's hot chocolate in hand as you wander through a winter wonderland!
With proximity to so many military families in the Washington D.C. area, Hersheypark in Hershey, Pennsylvania, is a perfect overnight getaway any time of year, but particularly during the fall and winter months. The crowds are thinner and the festivities make the park extra special. Plus the park offers preview hours the night before you choose to enter the park. For example, we wanted to spend a full Saturday in the park, but we arrived Friday night to take advantage of the last 2.5 hours of free excursions. We made the most of it and caught the creepy Creatures of the Night exhibition in the adjacent ZooAmerica. All of this was included for one admission price. We recently made the trip and were absolutely delighted with how well done the park is decorated and organized.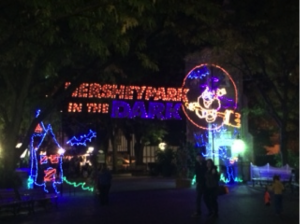 Entrance to Hersheypark
Visit Hersheypark in the Dark during October and the first weekend in November to make fall memories to last a lifetime. Not many kids can say they trick or treated in a large chocolate themed amusement park! Super cool. Your kids will be thrilled with the ride attractions and Halloween themed entertainment. Kids 12 and younger get to collect candy from their very own Treatville in both Chocolate World and in in the park. Be prepared for tons of fun sized treats! It's one of those times as parents you have to let the worry of candy intake go and just manage potential stomach aches.


Near ZooAmerica
Christmas Candylane at Hersheypark
We also had the opportunity to experience Hersheypark Christmas Candylane. With 2 million twinkling lights draped through the park and the well-timed light snow fall, (lucky us!) we couldn't have asked for more during our trip. Festive decorations, to include Hersheypark characters dressed in their winters finest, and holiday food offerings really add to the fun that all of the rides provide. Don't forget lots of holiday shopping and a visit to Santa and his reindeer. There is even a chance to have breakfast or lunch with Santa and Mrs. Claus.
Hersheypark Hotels and Lodging
Hersheypark has several options for lodging, and I recommend them all, however I haven't used the campground, but the Hershey Lodge and The Hershey Hotel are wonderful if you have the time and money to spend there. Actually, leave the kids at home to visit Hotel Hershey, it's too expensive for a family trek, bring your spouse to actually enjoy the property, which means the spa and wonderful food! It's amazing what they can do with chocolate! There are extra perks for staying on the property including early entry, free transportation and others, but as you can imagine, room rates are pricey.
I suggest to try at least the lodge or hotel once and then go back for another trip and stay at one of the many local chain hotels close to the park. In fact, we just left a brand new Hampton Inn, only 2 miles from the park and it was convenient and clean. The down side of staying off property is paying to park. You pay an hourly rate on your way out. Here is a tip, just pull into the lanes and parking marked for Chocolate World. For $25.00 you can leave your car all day. It's close to the entrance of the park and much easier to navigate coming and going. Avoid the "attractions" designated parking or you will be forced to walk awhile or wait for a tram.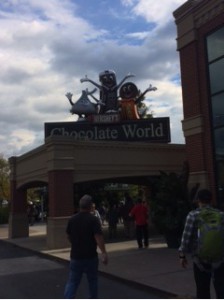 It's worth making the day trip if you are within a two to three hour drive, other than that, really consider staying overnight. Don't forget, Lancaster and all of Amish country are 15-20 miles or less. Visiting those locations could fill another day all together, so maybe make a weekend of touring Pennsylvania.
Find fun things to do near DC and Military Friendly Businesses near DC!