Oh the dreaded cold rainy day and a house full of rambunctious kids! Yesterday this happened to me. It was 40 degrees and raining all day and we needed to find a place to play indoors. I put a list together of all the possibilities and thought I'd share it with you. Below is my list of indoor activities on a rainy day in Virginia Beach/Norfolk.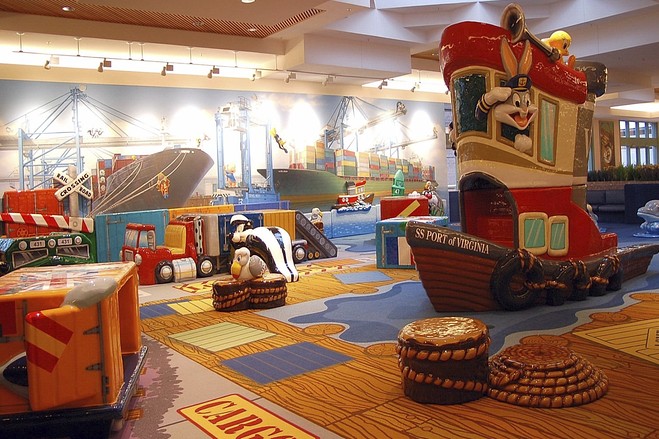 Play Area in MacArthur Mall.
Indoor Activities in Virginia Beach / Norfolk
Museums:
Virginia Beach Aquarium
Mariner's Museum in Newport News
Children's Museum of Portsmouth
Virginia Living Museum in Newport News
Air and Space Museum in Hampton
Art museums:
Museum Of Contemporary Art (MOCA) in Virginia Beach
Chrysler Museum of Art in Norfolk
Libraries:
Pretlow Library off Oceanview has a small indoor play area.
Indoor Playgrounds:
Fieldhouse in Virginia Beach has a huge playground with tunnels.
MacAurthur Mall in Norfolk has a nice soft play area near the food court.
Lynnhaven Mall in Virginia Beach has a nice soft play area.
Pembroke Mall in Virginia Beach located by Target
Greenbrier Mall in Chesapeake.
Chesapeake Square Mall in Western Branch area of Chesapeake.
Chick-fil-a indoor playgrounds.
Arcades:
Dave and Busters
ChuckeeCheese
Bounce Houses:
Bounceez off Lynnhaven near Virginia Beach Blvd
The Bounce House near Lynnhaven Mall, near Military Circle in Norfolk, near Chesapeake Square Mall, and near Newport News.
Kangaroo Jac's near Greenbrier Mall of Chesapeake.
Trampoline Parks:
Cloud9 a trampoline park near Greenbrier Mall.
Rebounderz a trampoline park in Newport News.
Indoor Play Facility:
Funville in Virginia Beach. They have slides, obstacle courses, bumper cars, and tons more.
Places with Memberships:
YMCA
GreenBean Contemporary Play
My Gym
City Rec Centers
Indoor Activities:
Home Depot has kids classes for free.
ColorMeMine is a place to color pottery. Costs money.
If I left out your favorite indoor activity, please comment below!
Find more fun things to do in Virginia Beach!