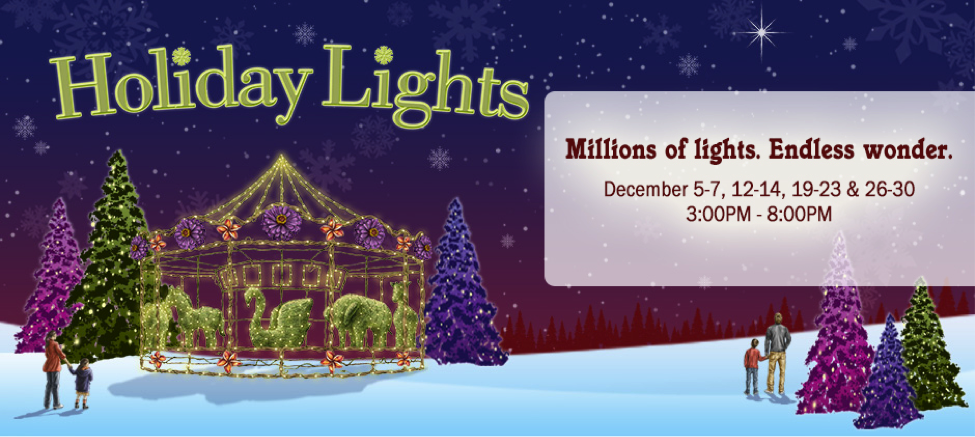 As East Coast natives, one of the most difficult things to get used to while stationed in Monterey, California, was the warm winter months. It was not unusual for the temperatures to reach near 70 degrees in November, December and January while we were there. So looking for Christmas activities was a little challenging when trying to recreate the winter chill and cheery atmosphere. Luckily, a quick trip up to Gilroy Gardens provided just the Christmas feeling we were looking for.
Almost an hour away in Gilroy, California, a former botanical gardens turned amusement park, is transformed into a winter wonderland.
This year's Holiday Lights in the amusement park are available December 5th-7th, 12th-14th, 19th-23rd, and 26th-30th 3pm to 8pm.
I heartily recommend arriving about 20 minutes early to wait in the entrance line and enjoy the full 5 hours of winter play time. Ride the larger rides first to avoid longer wait lines found further into the evening.
Ticket prices range from $30.00 to $40.00 depending how many guests are entering. Buy online prior to arriving, you could save up to $10.00. Sorry, for this event, they did not provide a military discount.
Food at Gilroy Gardens
Gilroy Gardens also offers a Holiday Feast for an additional charge to your admissions price if you are interested in a full sit down meal. Traditional turkey and gravy, ham, sides and desserts were offered. From what I saw, I wasn't terribly impressed with the mass food quality, but it looked convenient. It's probably better to have an early dinner and then buy a few festive snacks when you get there. Limited menus at restaurants and food carts are also available.
The park itself is on the smaller side and the website does recommend rides would interest those 10 and younger the most. My six year old had a blast and was able to ride almost everything to include the roller coasters. I'll be honest and mention it was a relief to us a parents not to have to deal with teenagers let loose in a typically huge amusement park.
Charlie Brown at Gilroy Gardens
Charlie Brown and his friends are the park's character ambassadors this time of year and put on several different shows. Funnily enough, Gilroy touts itself as the garlic capital of the world, and so Gilroy Gardens embraces this designation by having an official mascot as a walking, costumed, garlic bulb! Seriously! There is also a Santa's Workshop and Waterfall Illumination to check out when needing a break from rides that spin in circles.
Here is an extra tip: Many families hit Gilroy Gardens in the summer too because the Monterey Peninsula stays cool and overcast during these months and folks are looking for some sunshine and warmth further inland, so consider yearly passes, it's a better deal.
Oh yeah, you drive right past a pretty good set of outlet stores, too!