Who doesn't love Mexican food? Well, at least margaritas, right?
The food options throughout the Monterey Bay area were some of the best things we encountered during our stay in California and Mexican cuisine is represented heartily. In fact, there were so many options; I had to force our family to stray from our regular favorites just in case we were missing something great at another restaurant. An exhaustive and voter driven summation of the food scene for 2014 can be found at The Monterey County Weekly (MCW), which is a great resource for all things Monterey County.
Be warned, I consider myself a serious lover of Mexican food, but I can't say I am a gourmet in any sense of the word. In fact I grew up with Mexican food traditions that really were rooted in "peasant", or "poor people" food. Think lots of beans and rice, homemade tortillas and hand rolled tamales. So this is my slant toward what constitutes good Mexican food.
Best Mexican Food in Monterey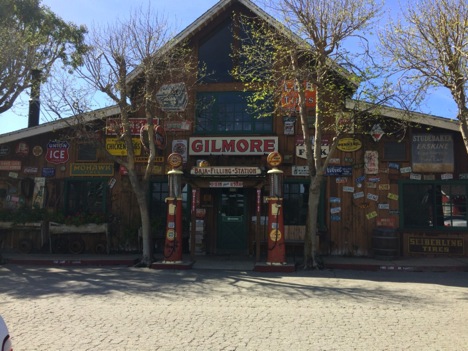 1. Baja Cantina Grill and Filling Station is located in Carmel Valley. It is a perennial favorite with locals as it is situated away from any major tourist attraction. You will find the car racing themed restaurant neatly tucked in away from the busy road mixed amongst a local vendor outlet. I know it sounds kind of strange, but the racing décor is a nod to the restaurant's history and its relationship with the famous Laguna Seca Raceway in Salinas, near Monterey.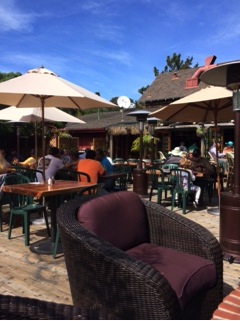 We never had anything that was short of very good, mostly excellent. They serve, hands down, the best chips and salsa in the area. The thick tortilla chips have a smoky spice blend dusted throughout the basket. The salsa is freshly made and varies in flavor each time you order. Our favorite dishes included the street tacos and Guadalajara Carnitas. The margarita selection is vast and delicious and was just voted the best by MCW. What makes the cantina extra special is the beautiful outdoor seating area. There is often a perfect afternoon to compliment your lunch special especially after hiking in nearby Garland Park.
7166 Carmel Valley Rd, Carmel, California 93923-9525, (831) 625-2252.
2. Papa Chanos is a local chain in Sand City and downtown Monterey. It was our go to for Mexican food. Our daughter always asked to go to the "fast rice place" because it was such quick service and she devoured the side of Mexican rice. The food here most resembled what I grew up with and I think that is why it's my favorite (it's also been recognized by the MCW in the recent past). Papa Chanos is a sit down establishment with the speed of fast food, but I don't know how they are so quick, as plates are made to order. I was a fan of the flauta special and my husband regularly chose the barbeque chicken plate. You will also find the place filled with locals who are enjoying the food and a Mexican League soccer game on TV. 915 Playa Avenue, Sand City, California 93955, (831) 393-9133.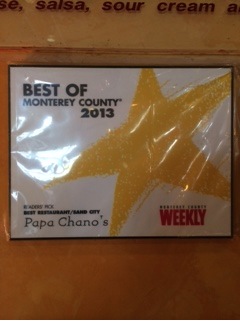 3. El Torito and 4. Peppers are my honorable mentions. El Torito serves tasty margaritas and pours my favorite, which is a mix of a margarita and a piña colada. It has the best views, sitting right on the bay. We always grab a booth by the window and watch otters and seals play. Although located on the touristy Cannery Row, lots of locals find meals there. We have seen several proms and quinceañeras celebrated in the restaurant. Finally, Peppers is a Pacific Grove staple and is loved by the community. It is housed in a charming building and always has a wait for service, so come early. Peppers serves Mexicali style food to many who rave. I included its mention because everyone but me thoroughly enjoys it, and majority rules right? (See MCW again.)
El Torito: Cannery Row, Monterey, California 93940, (831) 373-0611.
Peppers: 170 Forest Ave, Pacific Grove, California 93950, (831)373-6892.
Find more fun things to do, read reviews about on and off base information near Monterey Naval Postgraduate School!