I have mentioned before Monterey is spectacularly located near many worthy destinations. From San Diego to Northern California, there are plenty of once in a lifetime opportunities. We were so busy during our stay in Central California that I put the almost obligatory trip to Disneyland at the bottom of our list and said, "if we have time."
As a family, we aren't Disney enthusiasts. Sure, my six year old daughter loves the princesses. I ask you; can you hear "Let it Go" too many times? We know the major characters from Disney Jr., but they weren't her favorites, so you can see why the trip to Disneyland wasn't my first focus. These are my helpful tips for those parents who know because of the geographic proximity and hefty military discounts involved you should take your kids to the happiest place on earth, but in your heart you really don't want to.
These points also work for those who are all in and can't wait to get there. Everyone likes to save time and money.
Plan for a February trip. Not during President's Day weekend of course. The actual Disneyland website suggests this is its least crowded time of year. Honestly, I couldn't fathom going at a time when it was more crowded than when we were there. I planned for this trip a good bit and still waited in hours of lines.
Utilize the MWR at the Presidio of Monterey. www.pom-fmwr.com MWR has the best deals for Disney tickets. A three day park hopper ticket called the Disney Military Salute was $129.00 per person. You seriously can't beat that price anywhere, I tried. Also be sure to use MWR for other occasions. In addition to Disney admission, there are many reduced tickets for shows, outdoor rentals and loads of other entertainment options. For example, we rented a pair of new skis for $50.00 for 5 days over Christmas to take with us to Tahoe.
Hotel Recommendations
I suggest staying at one of the hotels on the Disney property. This allows you to access the Magic Hour. The Magic Hour permits resort guests one hour of park use to either Disneyland or California Adventure before the outside crowd enters the gates. These definitely helped our wait times, but remember there are thousands of other hotel guests jockeying for line positions even during the Magic Hour. Also, although opened early, only parts of the park are open for the Magic Hour, i.e. Fantasyland inside Disneyland.
Seriously consider making your home base the Grand Californian. It is the most expensive of the properties, but its location to the park entrances is unbeatable. You will be grateful for the short walk after a tiring day and it is in the middle of Downtown Disney, where all of the food and shopping outside of the park are situated. There is a substantially reduced rate for military, but you have to call a vacation planning number to access the rate (714) 520-7088. Check out this web page for details and restrictions. https://disneyland.disney.go.com/offers-discounts/military-room-discounts/ For a ballpark figure, our three night stay was about $1100.00 for the cheapest room available.
The Grand Californian is the newest property and houses a kids club, Pinocchio's Workshop, which is a drop off child care center with the security of Fort Knox. My daughter was thrilled to be there, as the night's theme was the movie Frozen. Other cool amenities on site include a pretty awesome outdoor pool set up and some of the rooms offer bunk beds. We had to switch rooms after the first night in order to get them, but it was worth the wait, our daughter had a blast. It also has a private gate to California Adventure which was heavily used, but convenient. Here is another tip for adults; the hotel offers a walk at 7am on specific days of the week through the California Adventure park as it prepares for the day's opening. It was pretty cool to see it completely empty. The guide answered questions and we all felt like we got to know more than the average guest. An extra special touch for us was during check in. Because we were first time guests and active duty, we were presented with an amazing hand folded Mickey Mouse paper ornament as a thank you for our service. It was unique to that hotel, and a rare gift for guests.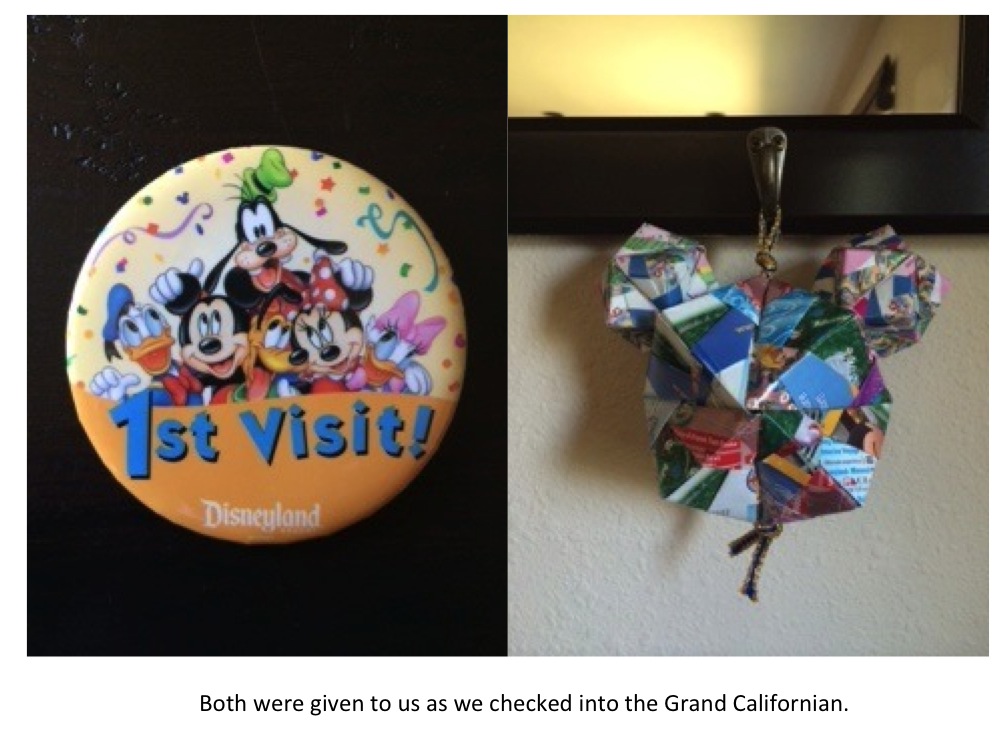 Planning Your Itinerary
I purposely chose to use our park hopper tickets for Tuesday, Wednesday and Thursday because those were the cheapest nights at the Grand Californian. However, we actually left Monterey Sunday afternoon. Here is why. It's a 5 hour trip to Anaheim, at best. We had no idea what the Los Angeles traffic would be like. We heard horror stories of backups and delays. We drove down to right outside of Santa Barbara, which is about the half way point, and had a relaxing evening there, as I was able to use Hilton Honors points for a free stay at a new Hampton Inn in Goleta. Monday morning we drove leisurely down to the park, and even stopped at Chick-fil-A, a rare treat while living in Central California. We made it to the Grand Californian about 2pm, checked in and had a great time investigating the property and Downtown Disney. By Tuesday morning we were raring to go with plenty of rest and a purposeful plan of attack to conquer Disneyland.
Plan for one day per park to get the most of your time if you do the three day park hopper Military Salute tickets. When you arrive, find out which park has the Magic Hour for your first day and enter that park. The next day will be the Magic Hour for the other park. It rotates each day. Our itinerary was to walk Disneyland on Tuesday, California Adventure on Wednesday and Thursday was a gap day to bounce between both.
My best tip is to take time to plan and ask some locals from your neighborhood in the Monterey area to pass on sage advice, as many are repeat offenders and know the ins and outs of the parks. That's what I did and it paid off tremendously. Some useful ideas gathered were: the helpfulness of a Disney wait time app for your phone, the usage of Fast Passes and the precise meal time reservations to view passing parades. As usual though, make room for the unexpected. One of my favorite unplanned moments occurred when we almost ran directly into the wicked queen from Snow White. She was in full costume and character and sent us the most chilling evil eye. I didn't even know they portrayed her in the park. Our daughter was mesmerized, as was I!
Admittedly this was not the trip I was most looking forward to, but it was a total success. The traffic to and from was a breeze during the weekdays after rush hour. We had no major problems with anything and we saw about 80 percent of both parks, which isn't too shabby. All in all, I am totally satisfied with the trip and grateful we were able to give a Disney experience to our daughter. Having said all of that, someone else can take her to Disney World! ;)
Read about military discounts and tips on how to save at Disney World Orlando.
Read on and off base reviews on MilitaryTownAdvisor.com!