Get out and explore your military town and try the best restaurants at the beaches. Located in Jax beach, Atlantic beach, and Neptune beach, these great spots will definitely get your taste buds excited.
Best Restaurants at the Beaches (Jax Beach) Area
Mojo's BBQ (Jax Beach) Mojo BBQ as a Southern Blues Kitchen, focusing on offering unbelievable food in a laid back, down home, one of a kind atmosphere.
Casa Marina - (Jax Beach)(hotel with great deck bar) Tapas Restaurant
Mellow Mushroom (Jax Beach) Great pizza place, casual
Roys (Jax Beach) Chain restaurant, pacific fusion cuisine, great food
Taco Lu (Jax Beach) Mexican - If you are looking for the biggest and best selection of Tequilas and Fish Tacos in Jacksonville Beach, you've come to the right place.
Eleven South (Jax Beach) Elegant dining
Metro Diner (Jax Beach) Breakfast and lunch spot - In 2010, we were visited by Diners, Drive-ins, and Dives. We trust that you too will enjoy our selections of delicious diner dishes.
Salt Life Food Shop (Jax Beach) Casual seafood
M Shack (Jax Beach) Casual, great burgers and shakes.
La Nopalera (Jax Beach) - Serving great tasting authentic Mexican cuisine since 1991.
Marker 32 (off beach Blvd west of Intracoastal Waterway) Fine dining. Voted the best restaurant in 2013.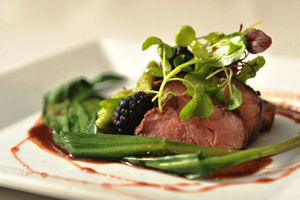 Eleven South
Best Restaurants in Atlantic/Neptune Beach Area
Ocean 60 (Between Atlantic Beach and Neptune Beach) - Chef owned, delicious and has small jazz trio. The cuisine is eclectic yet familiar featuring a Continental twist with an Island inspiration. Established in 2001, Ocean 60 provides a relaxed, elegant experience with a upscale casual ambiance.
Ragtime Tavern (Between Atlantic Beach and Neptune Beach ) The mussels are amazing and they brew their own beer. Ragtime serves a variety of cuisines, including Cajun, fresh seafood, chicken and pasta, and uses only the freshest ingredients.
Mezza - (Between Atlantic Beach and Neptune Beach ) - A neighborhood restaurant with a bar and lounge where they have a musical happy hour three nights a week and where children can make their own pizzas at our wood fired oven in the early part of the evening; a covered patio where guests can sit outdoors protected from the elements; a main dining room for those who like their evening meal to be a little bit more formal.
One Ocean Bar (Between Atlantic Beach and Neptune Beach) Expensive, but high end boutique food. Located on the beach, Azurea remains true to its local surroundings, providing an elegant, artfully inspired atmosphere, where a view of the ocean is accessible from any seat in the house. Azurea showcases the area's culinary movement with an eclectic tribute to the flavors of Europe, the Caribbean and the Americas. The menu changes with each season, representing the latest trends and finest ingredients.
Billy's Boat House Grill On the Intracoastal Waterway on Beach Blvd, great brunch.
North Beach Fish Camp (Atlantic/Neptune Beach) Located on 1st Street. North Beach Fish Camp is Palm Valley's sister restaurant, mirroring a creative menu, spectacular view, and inviting atmosphere. This venue's interior offers a contemporary, beach casual feel. Blue Crab Cakes with Caper Aioli and Steamed Gulf Coast Oysters.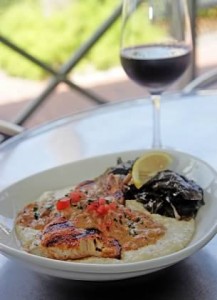 North Beach Fish Camp
Sliders (Neptune Beach) Sliders offers a delicious fresh and creative blend of cuisines at affordable prices, where customers can share a meal with old friends and neighbors. Sliders' Floridian style lunch & dinners and casual coastal atmosphere combine to nourish and nurture like no other restaurant at the beach.
Al's Pizza (Atlantic beach) - Al's Pizza makes fresh dough daily - often twice daily- from scratch. Produce is delivered 6 days a week to ensure only the freshest ingredients possible. Al's only uses one hundred percent whole milk mozzarella grated daily on site and nothing but fresh toppings, as Al knows there is no substitute for quality.
Royal Palms (Between Atlantic Beach and Neptune Beach) - A wine and tapas bar. Passion for food, wine & beer. They support local independent businesses with a vision of sustainable agriculture. They feature herbs, fruits, vegetables & edible flowers from their organic garden.
Tired of the beach, check out the best restaurants at St. Johns Town Center area.
Get out and tell us what you think of these restaurants. :)